An airplane on which the Brazilian first-division soccer team Chapecoense was flying crashed near the end of its flight from Bolivia to Colombia last night, reportedly killing nearly everyone onboard in one of the worst air disasters in sports history.

The chartered flight had intended to take Chapecoense to Medellín, Colombia ahead of the first match of their two-leg Copa Sudamericana (roughly the South American equivalent of the Europa League) final against Atlético Nacional. The plane also reportedly carried more than a dozen journalists traveling with the team. The plane crashed minutes before reaching its destination. Authorities suspect an electrical failure caused the crash.
From ESPN FC:
Antioquia police colonel Jose Gerardo Acevedo confirmed to reporters that emergency personnel found six survivors, one of whom died shortly after the rescue while being attended by the medics.

"There were no others with any signs of life," Acevedo said. "Now, we are just waiting on the daylight so we can move the bodies."
Amongst the six people initially found alive in the wreckage were Chapecoense players Alan Ruschel, Jackson Fullman, and Marcos Danilo Padilha. The club has since confirmed that Danilo eventually died from his injuries at the hospital.
Update [9:43 a.m.]: It appears there was some confusion about the official number of survivors. The AP is now reporting that there are six people who have been rescued from the wreckage. In addition, Marca is reporting that the sixth survivor to be found is Chapecoense defender Helio Neto.
G/O Media may get a commission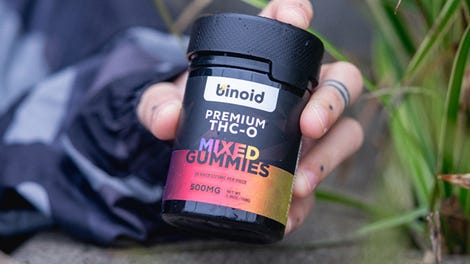 25% Off + Free Shipping
Binoid THC-O Gummies
Update [5:05 p.m.]: Colombian authorities have concluded their air rescue operation, during which they collected the bodies of the deceased. Their final tally is 71 dead of 77 passengers. The discrepancy between the total number of passengers (the numbers were originally reported as 81 passengers and five, and later six survivors) stems from the realization that four of the people the authorities had believed to have been on the plane had in fact never boarded.
Chapecoense's rise had been one of the great stories in South American soccer. The historically small team from Chapecó, in the south of the country, finally won promotion to Brazil's top division in 2014, 35 years after their last Série A season. Their place in the 2015 season's league table earned them entry to the aforementioned Copa Sudamericana, where this year they've made a miraculous run to the prestigious tournament's final. The two-leg final was to be the biggest moment in the club's history. Here are the players celebrating their achievements after a game:
Chapecoense vice president Ivan Tozzo summed up the club's and the city's feelings in the aftermath of news of the crash, via the AP:
"There are a lot of people crying in our city, we could never imagine this. Chapecoense is the biggest reason for joy here. We hope there are many survivors, at least that most of them are OK."
Update [9:50 a.m.]: Here are some more photos of the crash site: