The MLB Players Association sent a warning to all their player agents that Canadian immigrations officials have recently detained non-Canadian players at the border, due to prior criminal records. Not that agents would know anyone like that, they're just sayin'.
According to the blog, Biz of Baseball, the union sent out a memo advising agents that if their clients have any arrests in their past, for any reason, it could be grounds for Canadian border guards to detain them. So, you know ... get your shit together or find way to get sent to the DL for the weekend. It's apparently already happened to a few players this year so they helpfully provided a handy pamphlet to explain the matter.
Recently, Canadian authorities have stepped up enforcement of these laws, resulting in several non-Canadian players traveling to Toronto with their teams being detained at the border because of a past criminal record. Even an arrest, conviction or suspended sentence many years ago for a minor crime, or a juvenile offense, can result in a border detention and investigation to determine whether a player can be permitted to enter Canada , if the appropriate entry permit has not been obtained in advance.
The best part of the memo is how it instructs agents to clear up this little paperwork snafu without mentioning it to the teams that employ their clients. What those narcs don't know won't hurt them as long as you're there in time for BP.
We're not sure what American League players this might affect—or have already affected—but our tipster did point out that the San Francisco Giants will be visiting T-Dot in June for some inter-league action. Any room on that plane for Captain Toke?
G/O Media may get a commission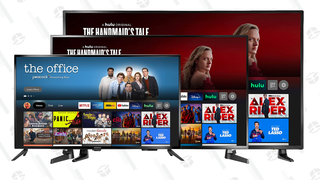 Up to 44% off
Prime Early Access - Insignia Fire TVs
Memo: MLB Players Have Been Detained at Canadian Border Due to Past Crimes [Biz of Baseball]