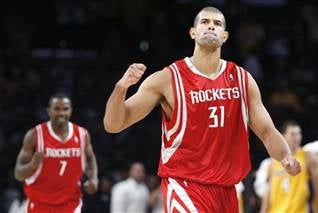 Welcome the return of your daily recap of NBA "action."
• They're Not Booing, They're Saying Koooobe. OK, they were booing. But Kobe Bryant did not let a little pregame negativity from the home fans effect the way he hogged the ball led the Lakers to almost-victory. Kobe scored 45 points, including 18 in the fourth quarter, but it wasn't enough as the Rockets prevailed 95-93. It was of course Rick Adelman's coaching debut, and while the Rockets looked confused at first, they eventually got their act together behind Shane Battier (tiebreaking 3-pointer with 2.5 seconds left) and Tracy McGrady (30 points). Overall impression: Kobe just looks like a guy who knows he could be traded at any minute. And Yao looks like a guy who could score 100 points if he suddenly woke up and realized he was 7-4.
• Hoist The Colors, Mr. Duncan. The Spurs received their championship rings, hauled their championship banners to the rafters, and announced a sparkling new contract for Tim Duncan. Oh, and there was a game; Duncan scoring 24 points and grabbing 13 rebounds in a 106-97 win over Portland. In my game simulation, however, Greg Oden played for the Blazers, and I arrived at the game in a Porsche. Neither changed the outcome. Duncan reached an agreement to stay with the Spurs through the 2011-12 season.
• Jazz 117, Warriors 96. From Golden State of Mind: "What was that 5.6 earthquake in the middle of the game? It's just like the Jazz to make that happen, they're so dirty. Haha. Seriously, that was so crazy. My seat started shaking and I thought the guys behind me were getting a little overexcited during some free throws. But then I turned around and nobody was sitting behind me. The shaking went on for a good 6-7 seconds. But the show must go on. Well the Jazz seemed to continue, not the Warriors. It seems like after the earthquake everything fell apart." Yep, I felt it too. But unlike the Warriors, it did not cause me to give up eight points to Gordon Giricek.
• The Pavlovic Effect. Sasha Pavlovic agreed to a three-year contract with the Cavaliers on Tuesday, ending a lengthy holdout. Financial terms were not disclosed. There, now you can sleep tonight.