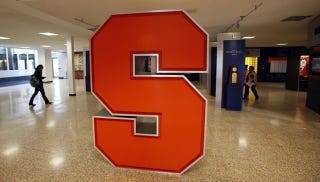 Very few details are known at this time, but according to the Syracuse Post-Standard, the Syracuse police department and district attorney's office are investigating Roger Springfield, a former sportscaster and current director of media properties and productions for the Syracuse University athletic department.
It's unclear what Springfield is being investigated for, but it appears that police were tipped off to something by officials from the university:
[District Attorney William] Fitzpatrick said today the investigation was touched off by SU officials who contacted law enforcement officials recently.

SU officials have been "very cooperative," the DA said.
The Post-Standard is also reporting that several marked and unmarked police cars were seen outside of Springfield's home on Dec. 12. The paper was also told by the SU senior vice president for Public Affairs that Springfield is no longer employed by the university.
If you know anything else, be sure to send us a tip.