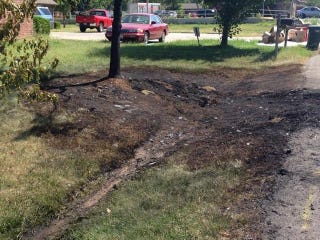 Arkansas Razorbacks quarterback Brandon Allen's truck was burned early this morning, and Fayetteville police are investigating the case as an arson.
5News reported that Allen woke up at about 4 a.m. to find his truck in flames. The vehicle was registered in his father's name.
Three cars were reportedly set on fire. The following photo, circulating around Twitter via @BrookeHanna12, does not show Allen's truck, but the other two vehicles.
Allen's truck was in his driveway. It eventually rolled into a ditch and was later towed away.
This isn't the first time Allen's truck has been vandalized (though it will be the last). This past November, someone egged his truck after Arkansas lost in overtime to Mississippi State with the quarterback's game-ending interception.
Top photo via @5NEWSKatelynn