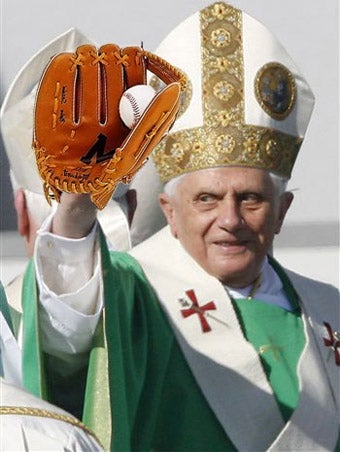 Close observers of the Catholic religion know that the Pope will always come up throwing after a diving catch; unless it's the final out of an inning, of course. In that case, His Most Holy Father will make sure that the umpire sees the ball in his mitt. Another Papal web gem! I can't count the number of times the Pope has cut off a drive in the gap to rob a sinner of extra bases. The chief pontiff is all about fundamentals. That's why Washington Nationals manager Manny Acta considered it an honor to allow the Pope to use his office at Nationals Park on Thursday.
While the Washington Nationals prepare for Thursday night's series finale against the New York Mets, Manny Acta's office at Nationals Park will have a visitor. Pope Benedict XVI will use Acta's office to dress and prepare for the morning Mass, which some 46,000 people are expected to attend.
The pontifical vestments hanging on hooks next to Acta's home jerseys? His Holiness borrowing Manny's Degree Men's Ultra Dry? Putting on Papal stirrups? Actually, I prefer to think that Pope Benedict got dressed in Ronnie Belliard's cubicle, perhaps even rustling through his belongings and swiping a pinch of chaw. Belliiard returns to cubicle on Monday, finds all the shoelaces on his cleats tied together: "Pope!"
Pope Benedict said morning mass before a crowd exceeding 40,000 at Nationals Stadium on Thursday, and all went well. Except that the Nationals missed their chance to have the Racing Presidents race a group of Bishops around the warning track, which would have been very cool.
In Pictures: Pope's Mass [BBC News]
Acta's Away, But Office Is Occupied [Washington Post]