The Mighty MJD's Smorgasbord runs every Monday. Do enjoy.
• There's a sign at the little Sean Taylor fan memorial that has a picture of Taylor with the words, "GIVE TOM LANDRY HELL" next to it. Assuming that the signmaker believes Sean Taylor's in heaven (and I've got to think that differing viewpoints would be rare in DC right now) ... can you do that? If you're in heaven, can you give someone hell? I've got to think that's frowned upon up there.
• Before the game kicks off, the crowd in DC observes a moment of silence ... the bar spontaneously follows suit. It's dead quiet in here. This feels so surreal.
• And we almost made it through the entire moment of silence, until some stupid bitch, just as it was about to end, asks, "Why is it so quiet in here?"
• Hey, there's Brady Quinn in a Subway commercial ... apparently, the Subway people are in some way giving free subs, but Brady can't deliver them because he's busy on Sundays. And he's right ... the last time Derek Anderson didn't get his pregame handjob was Week 3 against Oakland, when he was under 50 percent and the Browns lost. So Brady Quinn has a job to do now. And besides, do you really want the guy jacking off Derek Anderson to also deliver your subs? Seems like that would violate some health codes.
• Debate question on the CBS pregame show: "Should Philip Rivers have yelled 'Shut Up!' to the Chargers fans?" As a Chargers fan, let me say that I don't care if he sends me a singing gorilla telegram every Thursday that instructs me to go fuck my mother ... if it makes him feel better about himself, I don't care what he tells me.
G/O Media may get a commission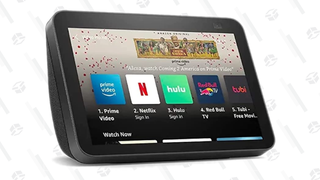 • An early false start is called against "numerous players" on the Redskins. I guess something like that was to be expected. The NFL should have a clause for situations like this that gives a team their first four penalties for free.
• I'd like to thank the Chiefs cheerleaders for braving the cold today. They're all wearing big puffy coats, but they're still rocking the tiny little booty shorts. I appreciate that, ladies. I know it's cold, but if I could just ogle half of you ... it makes all the difference.
• David Garrard fumbles deep in his own territory for the Jags, and a big Colts defensive lineman named Raheem Brock (middle name Fukwan) came up with the ball. He clearly had it in his possession, and then a couple of other people piled on, and a few seconds later, Maurice Jones-Drew emerged with the football. This is going to be challenged and overturned, but Jones-Drew is all man. He went into that pile and took the ball away from 6'4", 274-lb. Fukwad Brock.
• On their first defensive play from scrimmage, the Redskins are going to take the field with 10 players. That's kind of sweet. I think the Bills know this is coming, and if they're at all interested in being sportsmanlike, they'll just plow the football into the middle of the line and fall down.
• Nope. That may have been how it was drawn up, but Fred Jackson bounced it to the outside and picked up 22 yards. In hindsight, maybe the scoreboard tribute and moment of silence were enough.
• I honestly wonder how much time the Redskins defensive staff put into designing a defense with 10 men. It's just one play, but NFL coaches are so meticulous. If this happened to the Saints, Jim Haslett wouldn't have slept all week long, trying to design an effective 10-man defense for one play.
• The Greek ordered a beer about 10 minutes ago, and it's yet to arrive. He reminds the waitress of the order, and she apologizes, explaining some miscommunication with the bartender. I suggest (jokingly, of course) that she go back there and punch the bartender in the face, and she says, "I know! She's a total bitch." Goodness. Apparently, there's some bad blood there. I didn't know.
• Peyton Manning wants Reggie Wayne deep over the middle ... and he's got him. Superb hands there by Reggie Wayne, and it's 14-0, Colts. The Jags were pretty pumped about this game and the opportunity to claim supremacy in the AFC South. This is shaping up to be a "Not Yet, Motherfuckers" kind of game from the Colts.
• Oh, good ... defensive tackle Jason Allen is making a corner-of-the-endzone touchdown catch against the Chargers. That's what we need. Defensive linemen morphing into Randy fucking Moss when they play the Chargers. Excellent. 10-3, Chiefs.
• But Philip has an answer. The Chargers come back with a 38-yard Rivers-to-Vincent-Jackson touchdown pass to even the score. That's what I'm talking about. Tell me to "shut up" all day long ... moon me, for all I care. Stick a little tiny flag in your ass that reads, "MJD IS A PENISFACE," and moon me. Please.
• The Rams have opened up a 21-0 lead on the Falcons ... Gus Frerotte is balling out of control. Of course, if it wasn't for Gus Frerotte this win today would have the Rams on a 4-game win streak, with the potential to run the table and get in the wildcard race.
• The Jets lead the Dolphins 17-13 after Brad Smith takes a short Kellen Clemens pass 18 yards to the house. Hello, over. I wouldn't have guessed that these teams could have scored 30 combined points in 5 games in which they were both using the 10-man Sean Taylor memorial defense.
• By the way, about Sean Taylor ... do you think there's any part of Kevin Everett that's maybe just a little pissed off about all this? Before this happened, Everett was the tragic story. He was the guy everybody wanted to rally behind. And it was heartwarming because he was on the road to recovery, and could soon walk again. It was just last week that he was inspiring everyone with touching scoreboard messages ... this week, no one gives him a second thought. I hope he's doing OK with this.
• I'm sure he is. I'm sure there's no part of him that's pissed off at all. I'm sure.
• Joseph Addai has a big hole in the back of his pants, right below the left ass cheek. There's a pretty decent-sized portion of chocolate on display right now. The hole is in a place where, you know ... if Jersey girls wore football pants, they'd intentionally cut holes there.
• Steve Smith has caught 6 balls for 55 yards at the half. I haven't seen any of this game, and I don't know who started at quarterback for the Panthers ... but since Steve Smith is actually touching the football, I'm going to go ahead and guess that it wasn't David Carr.
• Arrowhead Stadium is depressingly empty, by the way. I've never seen it like that ... half the seats in the upper deck appear to be vacant. I'd have thought Kansas City was like Pittsburgh or Green Bay in that there's a 98-year waiting list for season tickets, and there'll probably never be an empty seat in the house. Guess not. You suck, Chiefs fans.
• Coming back from the half, LaDainian Tomlinson breaks one to the right side and goes in from 31 yards out. The Chargers defense and running game are both having their best days of the season so far. Philip Rivers, however ... he's still not good.
• The Jags, meanwhile, are not going away. It kind of looked earlier like the Colts would be romping that ass, but that's not the case. David Garrard just connected with my man Marcedes Lewis for a touchdown pass to pull them back within a touchdown.
• Muff stubble girl is not the waitress this week, but she is in the building. Her pants are back down to a dangerously low level, I'm glad to report. She also has a bruise on her hip ... I'd like to get the story behind that. Someone's grip was probably just a little too tight.
• Peyton Manning is looking to put the Colts back up by 14 ... but that one's going to be intercepted by Reggie Nelson, and Peyton's going to have to make the tackle. Replay shows Peyton standing there, waiting for Nelson to get close to him, licking each of his hands as he prepares to make the tackle. His form was on par with Jason Street's, but give him credit ... he did make the stop. Now, the licking of the hands, I don't quite get ... maybe Reggie Nelson has a reputation of being particularly slippery. I don't know. I've never touched him.
• Fred Smoot comes up with a nice play for the Redskins, but loses his his helmet on the tackle. Linebacker Marcus Washington picks it up for him, and polishes it with his jersey before giving it back. Lord knows what he just wiped off of there. I'd like to put a blacklight on that thing.
• The Bills have a linebacker by the name of Josh Stamer. I demand an immediate trade to the Browns so I can order my Cleveland Stamer jersey.
• 293-lb. Larry Tripplett makes a diving interception on a trip-drill interception against the Redskins. That was beautiful form for a big man.
• Jags wide receiver Reggie Williams picks up a 15-yard penalty for unnecessary roughness. It was a bullshit call, he barely did anything to warrant the penalty. But now he's on the sidelines getting reamed out by defensive lineman Spicer, who absolutely should scare the hell out of Williams.
• 3rd and inches for the Chargers ... and LaDainian Tomlinson is going to the paint again. The Chiefs had virtually everyone at the line, so once Tomlinson got through the first level, resistance was minimal. 24-10, Chargers.
• Bob Sanders intercepts a David Garrard (Garrard's first INT of the year, and it's a shame, because it bounced off a Jag's chest first), and that should just about kill the Jags. The Colts will be up by 11, with the ball, and about 6:00 to play. Garrard had 231 attempts without an interception.
• Damon Huard just had a pretty rough series, too. On consecutive plays, it was sack, sack, interception, and the Chargers lead by 14 with about 5:00 to play.
• I just noticed, but Atlanta's come back against the Rams ... that 21-0 lead has turned into a 21-16 lead.
• Nevermind about the Jags being dead. They forced a very quick 3-and-out, and now are back inside the redzone. Garrard goes to Dennis Northcutt over the middle to get the TD, and then runs in the 2-point conversion attempt himself. It's suddenly a 3-point game with 3:00 left. They'll need a stop now.
• In the game at quarterback for the Chiefs: Tyler Thigpen. I had never heard of this guy, so I did a little research. Some background on Tyler: He was born in Norway in 1984 to an alcoholic mother and an unknown father. Because he was born a drunk, he wouldn't stop crying until his mother put vodka in his bottle, a practice she soon tired of because she really liked vodka herself. Unwilling to care for the baby or share her vodka, she drugged the child to sleep, went to the airport, stuffed the baby in a stranger's carry-on bag and forget about him forever. That stranger was headed to America, and upon arriving in New York, discovered the half-dead baby in his bag. He called hotel security, at which point a bellman came and retrieved the baby and then proceeded to trade it to a scalper for one ticket to a Steelers/Jets game later that afternoon. The scalper, who was unable to conceive a child with his wife, nursed the baby back to health with coffee and a bottle of breast milk he stole from a couple who had brought their baby to the game. By the 4th quarter, the baby was healthy, but, jonesing for alcohol, resumed crying. The scalper couldn't handle it, and duct-taped the baby to the hood of a car in the players parking lot. That car belonged to Steelers receiver Yancy Thigpen, who found the child after the game, assumed it was left there by a groupie he had gotten pregnant. Yancy decided to raise the child as his own, never questioning their different skin color. He named the boy Tyler, cured his alcoholism, taught him the game of football, the rest is history.
• Or maybe this is true. 'm not sure.
• The son of Yancy was just intercepted in the endzone by Antonio Cromartie. Yancy will later beat him for this.
• The Bills have a chance to win this game against the Redskins. Trent Edwards makes an amazing throw through major traffic to get the Bills in position ... and nothing personal, Trent, but I'm going to have to chalk that one up to luck.
• Chris Redman, in relief of Joey Harrington for the Falcons, has gone 13-of-19 for 2 TDs and 0 INTs. I doubt that Chris Redman is the QB of the future in Atlanta, but ... those numbers, when compared to those of Byron Leftwich or Joey Harrington, are pretty good. Sooner or later, I'd love to hear the wisdom behind Bobby Petrino's "never play good players instead of bad players" strategy. Chris Redman, Jerious Norwood ... I'd love to hear his theories.
• Oh dear God ... Joe Gibbs, what have you done? He called one timeout to ice Rian Lindell on a 51-yard attempt. Mission accomplished. He then attempted to call another timeout, and there appears to be some confusion.
• The commentator keeps saying, "You can't call a second timeout, and Joe Gibbs knows that." But I've got a hunch that Joe Gibbs didn't know that ... you know, since he just did it. 15-yard penalty. It's now a 36-yarder. Unbelievable.
• With about 6 minutes to play, The Greek said to me, "In a close game, with Joe Gibbs and his clock management ... I don't know." I didn't really think much of it at the time, but dear God. Does that even count as clock management? This is worse, right? Not knowing an actual rule is worse than not being able to adeptly manage the clock in a football game, right?
• Lindell's 36-yarder is, of course, good. A last second Hail Mary attempt from Jason Campbell from his own 43-yard-line landed at about the 20. Ballgame. Absolutely brutal.
• If Joe Gibbs was looking for a way to finally turn Redskins fans against him ... well, given what the team was playing for today, you can't do much better than that. If he tried to hatch an elaborate plan to make people hate him ... what more could he do?
• If Gibbs was any other non-revered coach ... he'd be public enemy #2 in DC right now. The list would look like this:
1. Whoever pulled the trigger in Sean Taylor's house that night;
2. Coach who called the second timeout.
• I apologize, but again, I can't stay for the late games this week. I trust that you were able to enjoy them in your own special way.