Things are looking up for Kris Humphries, the NBA free agent who spent 72 days married to Kim Kardashian. Last we checked in with him, he had to deal with a "KRIS IS GAY!" tabloid cover, and he had survived what was—unofficially—the worst year ever.
But now he has an invitation to play with the Syracuse Crunch of the American Hockey League, and a name-drop in a GQ article about Republican presidential candidate Jon Huntsman's three daughters. Turns out that Humphries once courted Huntsman's eldest daughter, Mary Anne. He took her to see Elf.
From Alex Pappademas's piece in the January 2012 issue:
Before the girls arrived, Huntsman's campaign spokesman called to warn me that Liddy has yet to fully grasp what "on the record" means, although he needn't have bothered. When I mention the Kardashians, it's Liddy who volunteers the information that Mary Anne once went on a date with Kim's now estranged husband, Kris Humphries, when he was on the Utah Jazz.

"Liddy!" Mary Anne says, mortified.

But it's true. They saw Elf; Humphries bought a bucket of popcorn the size of a garbage can. Mary Anne never heard another thing about him until he turned up on E!, dating a reality-TV queen.

"You're gonna get me in trouble," Anne says.

Liddy takes a sip of water, "I'm just trying to make someone smile."
Things are looking up for Humphries: With just over a month of post-divorce damage control gone by, a longshot Republican presidential candidate's daughter will almost admit to having gone on a date with him once. He's golden.
G/O Media may get a commission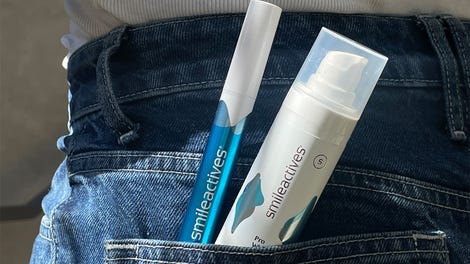 58% off
Whitening Powerhouse Pen & Gel Duo
We ♥ Huntsman [GQ]
Kim Kardashian's Ex-husband Offered Spot with Crunch [Syracuse Crunch]