Sorry for the late start, but had some problems connecting to the wifi here in downtown Chicago. Man U versus Manchester City is already underway, then Arsenal v Blackburn, and finally the big match of the day, Chelsea Liverpool. I'll try to keep running updates as the matches go on and giving some more indepth coverage, but I wanted to get this thread up and going so you PL league kids had some place to play. Also, if you feel like you have something witty and insightful to say about the game that we might have missed, feel free to hit me up on IM. Moniker is my screenname.
-TheStarterWife
First Update - Geovanni goal. The Man City contingent goes crazy. I have it on high authority that a Man City upset would be some sort of validation for coach Sven Goran Eriksson for a poor showing in for Team England in the World Cup. Geovanni, by the way? Totally want to put him in my pocket he's so cute.
Second Update - At the break, and despite Man City being in the lead, Man U looks to be dominating time of possession and has taken more shots. Also, this Irish bar had something called Bacon Butty. Possibly one of the best breakfast ideas ever, bacon and bread.
Third Update - Man U just cannot get a break. I've thought they were going to score about three times in the last few minutes, but it just hasn't happened. They still rule the clock with time of possession.
Fourth Update - FIGHT FIGHT FIGHTS!
Fifth Update - One of the more amazing things about PL is that a player goes down bleeding that badly, and they only stop play for about 45 seconds. AHHHH Tevez so close.
G/O Media may get a commission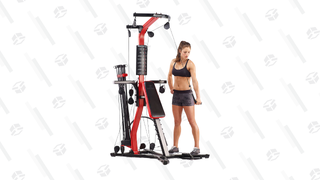 31% Off
Bowflex PR3000 Home Gym
Sixth Update - Man City holds on to win! Hizzah!!
GAME 2 This bar does not seem to be showing the Arsenal game, but I think we're staying to see Chelsea v Liverpool. You kids keep us informed in the comments, as Arsenal is already up 1-0.

GAME 3 Consensus at the table, (three Deadspinners and at least one more on the way), is that Benitez looks like a cut-rate Bond villain, much like commenter Sven said.
Essien - Yellowcard.
Second Update - Beautiful goal by Torres! Good job making his mark in the new club. (See? All the reading this week is paying off for me.)
Third Update - I know you guys aren't seeing these updates anymore because Server Nibbles seems to have escaped. Please forgive me while I try to find IT.