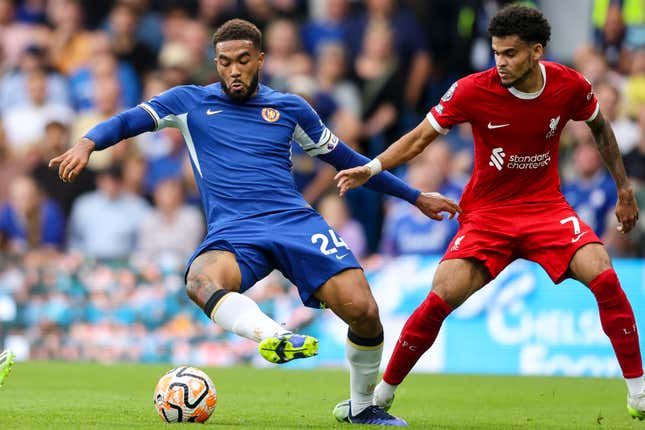 If it feels like Chelsea and Liverpool haven't been able to escape each other for about 20 years, that's probably because they haven't. It can be traced back all the way to 2004, when Steven Gerrard was thisclose to joining Chelsea from Liverpool, and then months later they met in the League Cup Final and the Champions League semi-final. Repeated Champions League pairings, transfer mishegas, Gerrard falling on his ass against Chelsea to cost Liverpool the title, two Cup finals in 2022, and a whole lot more in between have kept these two dog-collared to each other.

Erling Haaland set to break records | Premier League
They also can't separate from each other on the field either, as the last seven games between them, including the two cup finals in 2022, have ended in a draw. Four of them 0-0. They are Sidney Deane and Billy Hoyle bitching about how they'll never play together again and pointing out each other's faults endlessly and ending up together anyway because that's just what's been foretold.
The Moises Caicedo sweepstakes
The past week entered another chapter, as both clubs decided to engage in a truly stupid race to see who wanted to throw the GDP of a few small states at Brighton for Moises Caicedo to solve each of their midfield problems. Chelsea have been trying to pry him loose since January and, on Thursday night, Liverpool came swaggering in with a bid that Chelsea had refused to get to for the intervening eight months. At first it sure sounded like Liverpool would get a deal done in hours that Chelsea had dithered on for 32 weeks, until Caicedo and his agents remembered that Chelsea were going to double his salary (rumored, at least). So Brighton waited around for Chelsea to beat Liverpool's bid — which they reportedly did after Sunday's match — and Caicedo should be in blue in the next couple days.
Neither of which helped either team on Sunday, and it was in clear relief. Liverpool spent the first 20 minutes running all around and through Chelsea's midfield and, if Mo Salah hadn't started his run a quarter-second too early, would have had a 2-0 lead thanks to yet another pass they were able to just send through Chelsea.
And then Chelsea discovered that Liverpool were playing an attacking midfielder as a holding one (Alexis Mac Allister), a striker as one #8 (Cody Gakpo), and a winger as the other #8 (Dominik Szoboszlai). Both Chelsea wingbacks, Reece James and Ben Chillwell, hugged each touch line, stretching Liverpool horizontally, and Raheem Sterling and Carney Chukwuemeka took turns popping up on either side of Mac Allister and behind Gakpo and Szoboszlai. From there they could do anything, which they spent basically the next 50 minutes doing.
They also took advantage of Liverpool's hybrid use of Trent Alexander-Arnold/his defensive weakness. The going story on Alexander-Arnold is that he gets dribbled past by any winger and spins himself into the ground hard enough to end up somewhere near the Earth's core. Really, his biggest weakness is when the ball is on the other side and his following runners behind or around him. Which Chelsea were only happy to exploit, regularly switching the ball out to James on their right and having him cross to the far post. It was a ploy like that saw Chelsea's goal:
And would have quickly had a second through the same route had Chillwell not started his run a quarter-second too soon (recurring theme). Liverpool were able to finish better, but still only managed 35 percent possession, while admittedly finishing pretty much equal in chances created (1.35 to 1.28 xG to Chelsea). Most of that is due to being unable to break up any Chelsea possession, squarely on the hole they have in the center of the park. Southampton would have added another $20 million to Romeo Lavia's price tag.
Elsewhere…
4. Have Newcastle made Anthony Gordon useful?
When Newcastle paid some $55 million to Everton for Anthony Gordon, the belly laughs around the soccer world were hard to miss. Gordon's appeal appeared to be his age and that he was English. His career basically consisted of getting the ball, knocking it past his defender as far as he could, trying to chase it down, and then falling over (which would make him perfect for the USWNT! Eh? Eh? Too soon?). He got fouled a lot until teams figured out he couldn't actually complete a cross and any shot he would fire into someone's "Footy Scran" shot.
Harvey Barnes was bought to further relegate Gordon to the bench, and may yet still, though that may wait a little longer if Gordon is going to hit crosses like this?
The purchase of Sandro Tonali, who finishes this off, has given Newcastle enviable depth in midfield. If Gordon is more than a wind-up toy, they have depth on the wings too. Which is a problem for America.
3. Everton remain hilarious
Everton fans will be hugging their Duncan Ferguson toys and stuffed animals, slowly rocking back and forth, quietly repeating to themselves, "If we create that much every week we'll be fine, if we create that much every week we'll be fine…"
Everton piled up 2.73 xG against Fulham, along with 19 shots and nine on target. That 2.73 mark is the highest in any game where a team didn't score in two years. But this is what happens when you start Neal Maupay as your striker.
Maupay is the perfect Everton player, for a club and group of supporters that have spent far too long focused on the wrong things. Maupay is Marchand-level annoying to play against, given that he never shuts up, will stick a foot in late on every tackle, and winds the crowd up, who eat it up. But he doesn't do the things that matter, i.e. score. Maupay by himself had 1.35 xG worth of chances on Saturday, and didn't finish any of them. But he sure scowled a lot!
2. Ange-ball is going to be a carnival
The latest example of a team living out Ewing-theory, and perhaps the biggest example in recent memory, is Tottenham after selling Harry Kane to Bayern Munich. How do you replace maybe the best striker of all-time in the Premier League? Chuck everyone into the attack, you dolt!
New manager Ange Postecoglou has a Vegas style of tactics apparently, in a "The Eiffel Tower would be better with a roller coaster!" line of thinking. If the new fad is to tuck a fullback into midfield with the ball, Ange-ball is going one better by tucking both fullbacks into central midfield with the ball, setting Spurs up in a 2-3-5. It was certainly odd to be pushing Oliver Skipp into attacking positions, who greeted it like someone who has been told to work in the kitchen for the first time.
It certainly wasn't hard for Brentford to figure out how to counter this, romping into the wide open spaces out wide, with Rico Henry particularly happy to run or fire passes into acres of green space. Brentford might even have punched themselves out, as Spurs grabbed more and more control as the match went on as the Bees lacked the punch to run out on the counter.
Postecoglou will obviously need more runway, but it's a formation that doesn't seem to get the best out of Heung-min Son. He was shunted out wide on the left, had two shots, and didn't create a chance, while also giving away a penalty. He played from the left in the past but always got to the middle to pair with Kane. With five up front, there wasn't as much space for him to run into, and he's not a winger.
1. What are we adding here?
The Premier League has joined with FIFA in adding oodles of injury time to both halves now. The goal is to change behavior, i.e. stop time-wasting and get more action. But the action we're adding, for now, is the ragged stuff at the end of halves when everyone's tired. It's not exactly the most galvanizing, though it can be dramatic with goals after mistakes through fatigue, and maybe that's what they want. But for the most part, it's not the most exciting soccer to add back on.
Maybe time-wasting will evaporate in a couple months as players realize they'll only be adding to their burden when they're even more tired. Until then, we'll just be getting five or six more minutes of guys barely crawling to each penalty area.
Goal of the weekend
Jarrod Bowen scored basically the same goal, but my college roommate is a Gooner so I'm going to put Bukayo Saka here to get him off my ass for at least a few days:

Lee Dixon silliness of the weekend
Lee Dixon seems a really fun fellow and generally his analysis is pretty good, when he's not always making fun of Graeme Le Saux or talking about how shit of a player he was (he wasn't though!). But during the Newcastle game Dixon wondered aloud how Sandro Tonali would adjust to the Premier League, given that in Serie A, "They walk everywhere."
That's the observation of someone who hasn't watched Serie A in at least five years and seen how its pace has souped up greatly. Maybe Dixon is counting on viewers not knowing any different, but we do.
Hi there! This is something new we're trying, a sort of 5-things-we-learned after every Premier League batch of games. Will usually be on Mondays .We'll see how it goes, nothing is ever guaranteed around here or in life! But something isn't beautiful because it's permanent, right?
Follow Sam on Twitter @Felsgate and on Bluesky @Felsgate.bsky.social