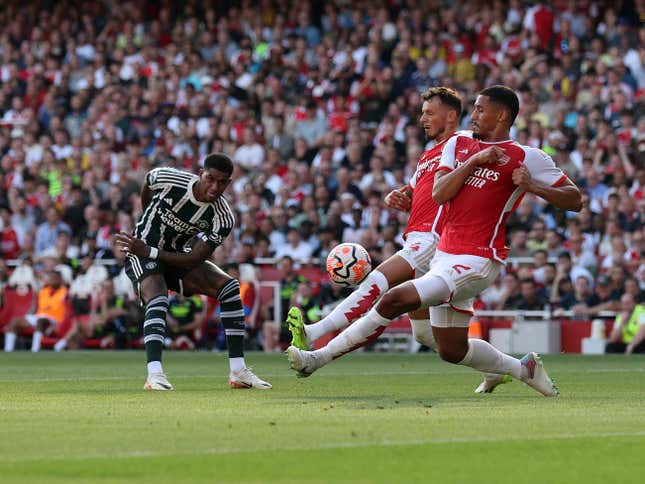 It used to be Jürgen Klopp's first Liverpool teams, and possibly the current one, that were considered the most raucous chaos merchants in the Premier League. They were equally capable of the most destructive football, going in both directions, equally capable of howitzer-ing their opponents or their own toes off. It would appear Arsenal have taken that mantle so far this season.
Erling Haaland set to break records | Premier League
In the last three weeks, Arsenal had to battle through with 10 men against Palace for the last half hour, gave up a first-minute goal and late equalizer to Fulham (who themselves only had 10 men at that point), and then beat Manchester United in injury time while narrowly avoiding going down 2-1 by the ability of Gabriel to suck in his stomach at just the right moment to catch Alejandro Garnacho offside before he scored. Arsenal supporters can definitely use the international break to try and find their equilibrium again.
It was a strange one. Arsenal didn't concede a shot at all until the 27th minute, at which point Marcus Rashford scored. It was a classic Gunners faceplant, with Kai Havertz passing to no one and giving Christian Eriksen all the time in the world to ping a perfect pass to Rashford on the counter, where he's deadly. It was yet another dumpster-material afternoon for Havertz.
Perhaps what has Arsenal supporters so loopy these days is how quickly they can correct things, and wondering why they just didn't do that before. It took them 30 seconds to equalize. From there Arsenal mostly just pounded on the United door until it broke in injury time, though it was this close to coming apart:
Perhaps the biggest difference between Arsenal the past two seasons is that they find a way, whereas all the previous Arsenal teams would find a way to lose it. Still, winning matches on vibes has a sell-by date, as Arsenal found out last season. With two strictly attack-minded No. 8s in Havertz and Odegaard, and then allowing Declan Rice to galavant around as he did at West Ham, they are awfully open at times. And they've survived doing so by a pubic hair so far.
As for United, as hilarious as it was that after all the money they've spent, they ended this match with Harry MacGuire and Johnny Evans as their centerback pairing, (you may remember them from such episodes as "Leicester 2019"), they'll probably tell themselves they were the thinnest possible VAR review from stealing three points at one of the toughest assignments in the league these days.
At the same time, we were just here with United. At the first international break last season United had already been battered by Brentford and lost to Brighton at home. They then went on a Rashford-inspired streak. But in Year 2 of the Ten Hag era at United, are they really just supposed to be the team that battens down the hatches at a top-four rival and hopes to catch them on the break? It nearly worked of course, but it's hard to say they defended well when they gave up 2.3 xG, the second of four matches in which they've given up over 2.0 xG and their third over 1.5. It's still awfully wonky and not clearly headed somewhere yet.
What else from Round 4?
4. Chelsea can't buy goals
I'm just the latest to go to this joke, but "Sorry," "Miss," and "Jackson" haven't trended like this since Outkast.
Chelsea ate it at home to Nottingham Forest, and they could thank their complete lack of a striker for that. Nic Jackson does a lot of things right — he's got boundless energy, makes all the right runs, links with his teammates well in attack — but the value of all that gets dimmed by a whole bunch when it doesn't come with finish. He banged them in for Villareal last season, but also scored on half his shots on target, which might have just been a spike in luck.
The percentages say it'll turn around for Chelsea soon. This is the third straight match they've produced over 2.0 xG, while only scoring four goals in that stretch. Christopher Nkunku returning late in the fall will help.
For now, though, this is how Chelsea are kind of constructed. There's a lot to like before they get to the opponents' box, and then it just all turns into sludge. And counting on Raheem Sterling to continue his early-season form all season would be not having watched this movie before.
3. This is what Spurs can look like with a striker
Tottenham have been great entertainers this season, and they've been doing that while tying one hand behind their back by starting Heung-min Son on the left wing and Richarlison as the central striker. The latter had spent Spurs' first three matches farting around and bitching, so manager Ange Postecoglu (I think by December I'll be able to spell that without looking) put that right against Burnley by putting Son where he belongs, up top. And he got:
James Maddison looked even better with having an actual live body right in front of him making runs, Manor Solomon was a danger on the left side that Son vacated, and it was all too easy. Perhaps this would make Spurs just as dependent on Son's health as they were on Harry Kane's in the past, but that's what happens when a team sells Kane as late in the window as Spurs did.
We'll find out more about Spurs soon, as they see Arsenal and Liverpool after Sheffield United coming out of the international break. But given how those two teams have defended at times this season, they'll all be must-see television.
2. Newcastle have a centerback problem
Three losses in a row and being drawn into the Champions League group of death did not make for the best week for Newcastle. Appearing to be very Sven Botman-dependent made it even worse.
Botman went off injured against Liverpool last week in the 87th minute. Dan Burn moved inside, and with him being 12 feet tall most everyone figured that would be OK. Darwin Nunez then skipped past him to win that game for Liverpool. And on Saturday, Brighton's Evan Ferguson tore him apart for a hat trick. Fotmob has his match rating at 5.2, which is low enough to be used to detect if there's oil under there. But it's ok, because it's only Rafael Leao, and Kylian Mbappe coming to visit on Champions League nights.
1. This is how dominant the Premier League is
It is telling that the Premier League can throw so much money around that a player will leave a Dutch team about to embark on a Champions League campaign for a relegation battle in England. That's what Ibrahim Sangare opted for, leaving PSV for Nottingham Forest at the close of the transfer window. No, the Dutch league isn't even in the top five of Europe, and is basically used as a launch point to those leagues for players. If Sangare helps to keep Forest up, he's probably in line for an even bigger payday from a bigger club.
Perhaps that's why Saudi Arabia has so many in Ol' Blighty so rattled. They make them feel like they've made everyone else feel for years.
Goal of the week
Much like Jarrod Bowen's last week, I can't help but put Son's first against Burnley here:
That touch to bring down the long ball, the languid touch in the box even with three players charging at him, and then the coolness to go for the chip under those circumstances. Son is like the guy who is always smiling, because he is, because he knows something you don't. It's a smile that assures you that you are most certainly in a lot of trouble.
Follow Sam on Twitter @Felsgate and on Bluesky @felsgate.bsky.social