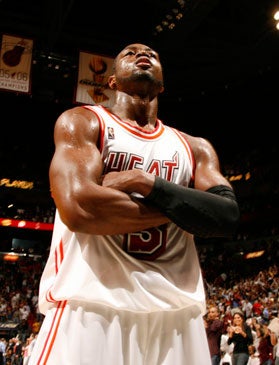 Let's see if I got this right. The Miami Heat are still supposed to be good because Shaquille O'Neal is still tall, Dwyane Wade is still making commercials, and Pat Riley's hair gel also doubles as a love potion, or so claimed the highly motivated salesman and his cardboard kiosk. But even after Wade's amazing game-winning shot as time expired, the Heat are a piddly 8-19 this season. Which is only, I think, fifth in the Eastern Conference.
Elsewhere In Piss Poor Teams With Great Final Shots News — The Philadelphia 76ers found themselves with a last-second win, thanks to Andre Iguodala's magical jumper against ... Memphis? That can't be right. I though they beat Georgetown. Hmm... no, it clearly says "Memphis." Maybe they played a doubleheader. I'll look further into this.
Also, I'm quite the proponent of tearing off one's jersey after a big shot, which is what Iguodala did after he made his shot. I'm sure that wins the opposing fans' hearts over much easier. "You just beat our team, I'm so pissed at you right... wait, who do you play for? It doesn't say. So... you might be on our team! Yay, athlete!"
People Train Runs Out of Stubbville — It almost wasn't a fair fight for the Charlotte Bobcats to, after 11 hours of rerouted flights and delayed takeoffs, have to play an NBA basketball team. Yi Jianlian took advantage of this, scoring a season-high 29 points. Perhaps from here on out Milly-wau-kay can simply hope that the other team always has to travel half the continental United States with much difficulty. Then again, I'm hoping for that too. I would love to see a team have to play a game after they fly coach. That would be too much fun.
You Call Them Steamed Hams, Despite The Fact They're Obviously Grilled — It would take some Principal Skinner-caliber theatrics to impress Toronto Raptors fans after last night. "Look, Chris Bosh scored 42 points. That's a lot!" But what was the final score of the game? "Well ... they ... didn't keep score." They didn't keep score. Against the Suns? In this part of the season? In this part of the country? "...Yes." Oh, well then. Chris Bosh, 42 points. Amazing!
Hey, Know Who's Really Bad At This Sport? The Minnesota Timberwolves. They lost by 34 points to New Orleans. I would have also accepted "Chicago" as a viable answer. What they did was lose by 18 at home to Houston.