Your morning roundup for July 15, the day we forgot.
Jokic? Embiid? The NBA MVP is obvious... right? | Keep it a Buck(et)
What we watched: With apparent progress in the rookie wage scale, according to numerous reports, the NFL lockout seems to be nearing some sort of conclusion. Should a resolution to the four-month standoff come in the days ahead, it would likely salvage those ridiculous full-priced preseason games, about which season-ticket holders are no doubt holding their breath. But no matter. This stalemate has had the advantage of coming at a time when there is no football, when the casual fan isn't paying any attention to it anyway. While we're not going to celebrate anything until a deal is done and camps open, we're not going to be cynical about the timing of it, either, at least until we can't find anyone willing to take our preseason tickets off our hands, even for free.
Elsewhere
James Harrison apologizes for a bunch of things: "As far as the photo that was shown on air yesterday, collecting guns is a hobby of mine, and I advocate the responsible use of firearms. I believe in the right to bear arms. I like to go to the shooting range. I like to hunt. I like to fish. I could just as easily have posed with my fishing poles but it obviously wouldn't be an interesting picture for the magazine." [Facebook]
G/O Media may get a commission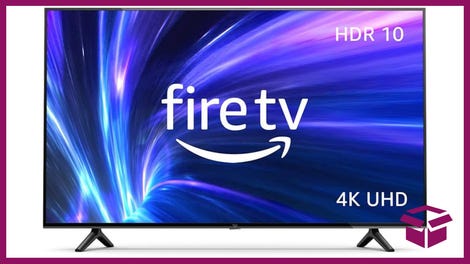 42% Off
Amazon Fire TV 50" 4K Smart TV
Spencer Hall goes noodling: "Sticking your hand into the hole is the worst part. Your brain is thoroughly against the idea. People who stick their hands into holes don't get them back in your brain's darkest corners, but noodling goes a step further. It asks you to stay completely calm after being bitten, and not do what you desperately want to do—run screaming away from the thing that just bit you. Instead, you are supposed to get closer, and then put more of your hand into the fish's mouth and gills. If it's a monster, you might have to put your whole arm in and link your hands, the fish equivalent of someone putting one hand up your nose, another down your throat, and pulling you along by the entire facial apparatus." [SBNation]
We are all Dave McKenna CXLVI: Here's your daily link to Dave McKenna's brilliant "Cranky Redskins Fan's Guide to Dan Snyder," which we'll be posting every day until Snyder's dumbass libel lawsuit passes out in a puddle of its own vomit.
Freestyle Ba' interlude:
The greatest Army explanation to date?: "There are a variety of minimalist running shoes available for purchase and wear. Effective immediately, only those shoes that accommodate all five toes in one compartment are authorized for wear. Those shoes that feature five separate, individual compartments for the toes, detract from a professional military image and are prohibited for wear with the IPFU or when conducting physical training in military formation." [Washington Post]
Much like the life of a blogger... "Faulkner drank a lot of whiskey when he was writing. It all started when he met Sherwood Anderson when they were both living in New Orleans (Faulkner was working for a bootlegger). In a 1957 Q&A, Faulkner explains their relationship: 'We'd meet in the evenings, and we'd go to a drinking place and we'd sit around till one or two o'clock drinking, and still me listening and him talking. Then in the morning he would be in seclusion working, and the next time I'd see him, the same thing, we would spend the afternoon and evening together, the next morning he'd be working. And I thought then, if that was the life it took to be a writer, that was the life for me.'" [Flavor Wire]
Has Charles Barkley finally fixed his swing?: Sure looks that way. [Twitpic]
What a goal! Also, Israel apparently has a hockey team: "Sherbatov was the star at the tournament leading Israel to the gold medal with 14 goals and 26 points in four games. When you beat teams like Greece 26-2, that'll help pad your stats. (The Greeks also lost 20-0 to Luxembourg and allowed 79 goals in four games. Mongolia withdrew from the tournament giving each team an automatic 5-0 victory.)" [ Puck Daddy]
Having Jeter sign a David Price-signed ball actually brings the value down: "Tampa Bay's David Price agreed with Steiner Sports to autograph collectibles, including baseballs and pictures. Some of the souvenirs will bear the inscription, 'I Gave Up DJ's 3K,' and be signed by both Price and Jeter." [AP]
Does the USWNT have Richard Nixon to thank?: "Simply put, Title IX has made this country a better place to live in. There are very few pieces of legislation about which a similar claim might be made. The statistics are overwhelming. A 2006 study as to the increased number of women and girls participating in high school and college sports since 1972 was staggering: More than 450%. A study of intercollegiate athletics in 2008 showed that women's college sports teams had grown to 9.101 — an average of 8.65 per school - from an average of less than one in 1972. 98.8% of American high schools now have a girls basketball team; 95.7% have a volleyball team; and 92% have soccer teams, which is why you're going to be in front of your TV on Sunday." [Village Voice]