Scott Norton won the WSOB Chamelon Championship back in November, but it only aired on ESPN this weekend. Fast-forward to about the two-minute mark of the video above, and you'll see the aftermath. Norton, overcome with emotion after just his second PBA win, first shakes the hand of his opponent, than shares a brief kiss and a tearful embrace with his husband Craig Woodward.
Norton was inspired by Phoenix Suns exective Rick Welts coming out in 2011, and announced himself as a gay athlete days after being named the PBA's rookie of the year. He would marry Woodward that fall.
Norton had this to say when he went public:
It is extremely important for me to come out to show other gay athletes, both current and future, that it is important to come out to show that we are just like everyone else. Being gay doesn't define who I am as a person or as a professional athlete.
ESPN's announcers didn't let Norton's orientation overshadow his play—but they also didn't pretend it isn't part of his life. According to a report for OutSports,
The telecasters were very matter-of-fact. Scott's husband, Craig, was introduced as his husband or spouse interchangeably.

[...]

The focus was upon how well he was playing. They did mention that Scott came out after his win in 2011 during the telecast. They also mentioned that his first title win in 2011 helped him come out the shadow of his mother, Hall of Fame bowler Virginia Norton, but that this second win defined him as a true threat on tour.
G/O Media may get a commission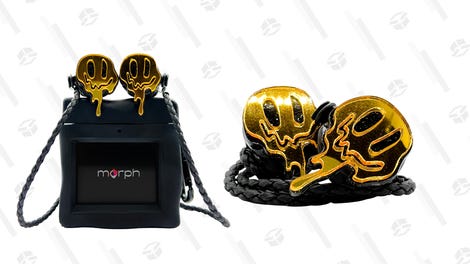 morph audio
Morph Earphones
A gay athlete celebrates with a gay kiss for his gay husband, and the story is simply: Scott Norton won a bowling tournament. Imagine that.