Oakland lawmakers have stood firm, refusing to pay a dime in public money toward a new stadium for the Raiders. Because this is how things work now, rather than obtain private financing, or sell the team, or continue to play in the Coliseum, owner Mark Davis is waiting to be wooed by relocation options. And Las Vegas is throwing itself at him.
A proposal by 22nd-richest man in the world, casino magnate and owner of the Las Vegas Review-Journal Sheldon Adelson would fund a domed stadium in Las Vegas with $750 million in municipal bonds. According to Bloomberg, that would be a new record for public contributions to an NFL stadium, surpassing the $620 million in tax money that went to build Lucas Oil Stadium in Indianapolis.
There is an alternate proposal, supported by the Nevada Governor's economic adviser, that would require "only" $500 million in public funds. The Southern Nevada Tourism Infrastructure Committee is studying the proposals, and is expected to issue its recommendations next month.
Here is the part where a pro-stadium person runs to the comments and says "Hey, wait, the $750M in bonds will be paid back by an increased hotel tax. As a Las Vegas resident, this won't cost me anything!" And here's the part where we note, for the 750 millionth time, that tax money is fungible. If the legislature approves a hotel tax hike, that money could go to literally anything—even things that are actually useful to a local economy. (The committee currently has on its desk proposals to fund transit improvements and an expanded convention center.)
G/O Media may get a commission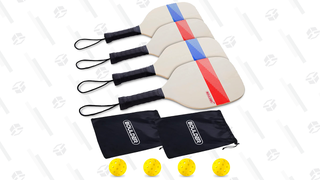 It's Pickleball
Pickleball Sets
Mark Davis might be the only NFL owner who doesn't actually have the money to build a stadium himself. The answer is not to build one for him.