Had he lived, would Joe Paterno have been charged with a crime for allegedly covering for Jerry Sandusky's serial sex crimes against children? One of the prosecutors who worked to convict Sandusky last summer said the answer is no.
In an interview scheduled to air tonight on Showtime's 60 Minutes Sports, Frank Fina, Pennsylvania's former chief deputy attorney general, said he "did not find" any evidence to suggest Paterno was an active participant in the alleged cover-up that led to criminal charges against three Penn State administrators whose case is scheduled to go trial next year. "And—and I—I'm viewing this strictly on the evidence," Fina said, "and not any fealty to anybody."
The Paterno idolaters will see this as a vindication of the old man, and to some degree they're correct: The NCAA sanctioned Penn State based solely on the findings of the Penn State-commissioned Freeh report, which found that Paterno and the other three senior university officials demonstrated "a total and consistent disregard ... for the safety and welfare of Sandusky's child victims." But while the Freeh report did present evidence that proved valuable for the criminal case against those other Penn State administrators, the case it made against Paterno is largely circumstantial and based on supposition. (Click here for a more thorough explanation of what I mean by this.)
Remember: When Sandusky was initially charged, Paterno was praised by the prosecution for testifying honestly before an investigative grand jury. There is no evidence that Paterno instructed anyone not to talk to investigators, or that he destroyed or withheld evidence, or that he even instructed anyone to do any of the same. And in 2001, when then-graduate assistant coach Mike McQueary told Paterno he saw Sandusky sexually abusing a child in a Penn State football building shower, Paterno did inform two higher-ups at the university about it (albeit after initially waiting a day).
G/O Media may get a commission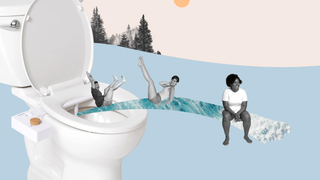 17% off
Tushy 3.0 Warm Water Spa Bidet Attachment
At the same time, no Penn State official appears to have reported Sandusky to police investigators or child-welfare authorities, thus allowing Sandusky's behavior to continue unchecked for several more years. Paterno, renowned for his rectitude, never used his outsized influence or noted moral authority to at least make sure any proper report was made. And his family, which is fighting to salvage what it can of the old man's reputation, to the point of suing the NCAA, is even on record acknowledging this much.
In addition, Freeh's evidence strongly suggests—again, without being dispositive—that Paterno was made aware of a 1998 allegation against Sandusky that had been investigated by police and child-welfare authorities, but which at the time resulted in no criminal charges. Sandusky was still on Paterno's coaching staff in '98, and up until his death, Paterno would deny he knew anything about that allegation.
We've said it before: Penn State would have been smart last summer to fight the NCAA sanctions, even if that battle might not have been popular in the initial aftermath of the release of the Freeh report. It's now up to the courts to determine whether the Penn State officials' decision not to report Sandusky 12 years ago was a) part of an active cover-up, or b) simply a more passive refusal to confront the taboo spectre of a possible child molester in their midst. Either way, the inaction of those officials—Paterno included—amounted to negligence. And by setting aside $60 million and recently reaching settlements with several of the men who have come forward to claim Sandusky abused them, the university has acknowledged as much.
Photo credit: Getty