Another year, another February; another parade of dogs coming to a gray and bitter New York in hopes of winning the big ribbon at the Westminster Kennel Club dog show. Of all this year's upsets, few were as touching as the toppling of Flessner's International S'Cess, a handsome bloodhound from Maryland who won Best in Group in 2014 but lost this year to a 15-inch beagle named Miss P.
As a spectator, the bloodhound's victory seemed a forgone conclusion: Having won the hound group last year, reason stood that he would return to win again. (That he won the National Dog Show shortly after Thanksgiving only cemented the notion.) But at the heart of all competition, however reasonable, lies the great mystery of how winners come to lose and losers come to take their place.
I invited the dog—Nathan, to his handlers and fans—out for a drink. We settled on a pub in Midtown called Iron Bill's, one of those nice old places with green-glass lighting and sawdust on the floor. Nathan showed up collarless and alone. I slipped him into a spare Service Dog vest I had for the occasion ("It's a little embarrassing, but I'm no stranger to rules," he said) and got a booth. I ordered gin; he took his stout warm and from a soup bowl.
I want to begin on the subject of mantrailing. Several dogs here [at Westminster] are bred for uses they no longer have. You stand as the first bloodhound with a mantrailer title to have also won a Best in Show.
It's interesting: You see dogs like the Otterhound, who have outlasted their use, evolutionarily speaking. Unless you're Inuit or Aleut, you're not hunting otters in this country anymore, because it's illegal. And yet people still breed and judge Otterhounds for characteristics useful only to otter hunting. It's like Dixieland jazz, but with genetics.
I'm glad to serve my instincts, but what you have to understand is that I don't see mantrailing as an unusual thing to do. I see not-mantrailing as an unusual thing to do. I was born to smell things and run toward them.
G/O Media may get a commission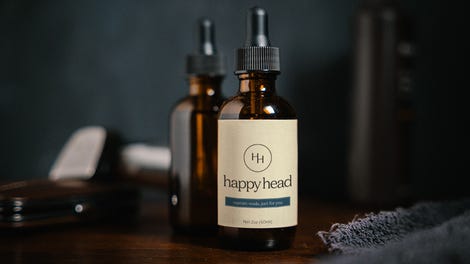 Do you ever feel as though being a show dog is a kind of betrayal?
It's a human question: Do I ever feel. It's hard to talk about anthropomorphism, especially right now: I'm sleepy and I want roast chicken. The scientific rule of thumb says dogs operate on the emotional level of toddlers. Stanley Coren, a professor up in Vancouver, has written well about it. I have a good feeling and a bad feeling, but the idea of anything in-between is a projection.
Provide me an example.
Shame. People imagine dogs are ashamed at having gone to the bathroom on the carpet. The truth is that we just fear punishment and reproach. There are upsides of living in monochrome, of course.
Example.
When I smell a crotch that interests me, I can walk over and smell it closer.
So when announcers at Westminster discuss temperament, for example the idea that some dogs are "intelligent" or "have a friendly disposition"—you don't see merit in that?
No. I do understand the instinct to divide the world along familiar lines, into familiar categories. When you see me jump up to lick Heather [Helmer, Nathan's handler], the way I did earlier tonight, you see "pride" or "excitement," because that's what excitement looks like for people. That I understand. But that's also a kind of metaphor, and metaphors aren't real.
Have you considered that we anthropomorphize in an attempt to forge a deeper connection?
You're the dominant species: We connect however you say we do. What I'm personally wary of is trying to find so much common ground that we erase our differences. Universal narratives insult everyone eventually.
Your sire [Flessner's International Harvester, or Harvey] was a prizewinning hound, too. What is the nature of your relationship?
He provided the semen that contained much of my DNA.
A few more subjects, all trifles.
Of course.
Favorite album?
Either The Milk-Eyed Mender by Joanna Newsom or Blackheart Man by Bunny Wailer.
Favorite city?
I sense I'm obliged to say New York, but the truth is that I don't have much use for cities.
Favorite color?
Gray?
Gray is a fine color. Forgive me, but I would feel remiss if I didn't ask if you wished you had won.
Let me try and give you what might be an interesting answer. A few weeks ago I was in the backseat of a car. I can't remember where the car was going. It was daytime. We stopped in a shopping center. I saw another dog in the parking lot, a rangy dog. He was nosing around in a dumpster behind a Chinese restaurant. I could smell the food from across the lot. It was awful. And it occurred to me that I could be that dog, without an owner, without my shots, without a home to go to, eating old Crab Rangoon out of a paper box. I could get kicked in the ribs by some angry sanitation worker in the morning and have to find a new place to sleep every night. But as things go, I'm lucky. I have a home. I have a name. My papers say Flessner's International S'Cess, but my masters call me Nathan.
---
Mike Powell (@sternlunch) lives in Tucson, Ariz. He has written for Pitchfork, Grantland, Rolling Stone, the LA Review of Books, and other places.
Photo by AP/Mary Altaffer.
The Concourse is Deadspin's home for culture/food/whatever coverage. Follow us on Twitteras well.