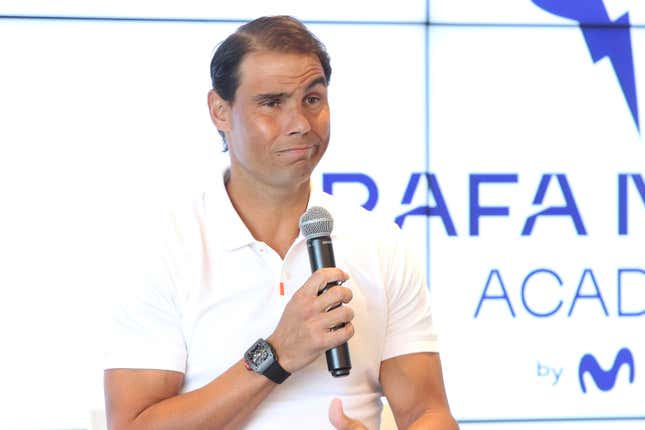 It feels like tennis fans have been talking about when men's tennis will enter its new era for forever now, simply because Roger Federer, Rafael Nadal, and Novak Djokovic had been carrying the brilliance longer than anyone ever had, longer than anyone could have anticipated. Guys don't win majors in their late 30s as both Federer and Nadal have done and Djokovic will do.
Being a Tennis Gladiator like Roger Federer | Bear Grylls' Ultimate Sports Fantasy
But some six months after Federer had to call time on his career due to a knee injury that simply wouldn't heal, it seems Nadal cannot outrun the toll the thousands of miles run on courts has taken on his body. Nadal pulled out of the French Open today, citing the hip injury he suffered at The Australian Open, and forced him out of it. Nadal also said that he's breaking from rehab and training, and that he hopes 2024 will be his final year on tour but he can't guarantee that he'll make it back at all. His return date is decidedly TBA, if it even exists.
It is startling that Nadal ever made it this far, as he's been battling various injuries for a decade or more now. Analysts have always wondered how he would hold up with the way he thundered around the court instead of the way Federer or Djokovic seem to glide over it. It would appear that Nadal survived simply because of a will that won't be matched. As he said in his press conference today, he was able to put together Grand Slam and tournament wins the past few years with either being unable to practice as he normally would, or having to suffer through it in a way he hadn't before.
The man who enjoyed suffering
"Suffering" has been a word that Nadal uses a lot, and one he's become defined by. While his game could match the beauty of all the other gods he walks amongst if not above, it will be more known for the way he simply persevered through matches and tournaments, and seasons. Nadal's most defining characteristic was his simple refusal to ever admit a point was over, much less a match. It wasn't just him chasing down every ball, ones he had no right to get to, but being able to produce offensive, and winning shots from those hopeless positions. Nadal seemed most at home when he was playing points as if his hand was emerging from the dirt after being buried alive and crawling out. That he would simply go through more than whoever was across the net from him, and that assuredness would break everyone. Which it almost always did.
As Nadal suffered through the actual tennis, grinding out points and saving lost causes, and kept progressing simply because he would just keep progressing, he suffered to even get to the tennis. Here's a list of all the injuries he's gone through, and you wonder how many others on the planet would even get through half of this before calling it a career. Perhaps it was the extra miles Nadal racked up salvaging points and returns he might not have needed to that became too much for any collection of ligaments and muscles to absorb, or maybe just the way he moved, but he wouldn't be Nadal if he didn't. And only Nadal could have made it here through all that.
For the perception and jokes made of tennis, it is a grueling, and unforgiving profession. The season is 10 months long and covers the globe. A player is out there by him or herself for a couple of hours, and whatever nagging, or bothersome injury has to be carried into a match the very next day at most tournaments, especially when advancing as far as Nadal usually would. The practice sessions are never ending and taxing. And any slip or pause sees one get passed by those able to do the unfathomable amount of work themselves.
If this is it for Nadal, it does feel like the men's tour is finally moving into a new phase after nearly 20 years of having The Big Three carry it. Djokovic is still around of course, and he just won the latest major in Melbourne and will be the favorite at Roland Garros. But Carlos Alcaraz certainly appears to be ready to claim a spot in the legends' lounge already, and Danil Medvedev, Jannik Sinner, and Casper Ruud have also provided enough fodder to think that they'll put on some great matches and rivalries going forward. We'll never have what we had again when Djokovic, Nadal, and Federer were having encounters that required poets to describe and feel like they should be preserved forever in gold, or marble, but there'll be plenty to still watch.
It would be folly to think Nadal won't make it back for at least a little while. He always makes it back, right? It's too easy to say he has nothing left to prove, because he hasn't had anything to prove for years. He simply lived to be out there and "suffering," and it's hard to picture him without that face contorted, grunting through the pain, and coming out clean on the other side. But no one outruns time, and its effect on their bodies. No one kept it at bay and even defeated it in the way that Nadal did, and he'll go out on his shield whether that day has passed or is in the near future.
Follow Sam on Twitter @Felsgate as he hopes that Francis Tiafoe can finally put it all together.