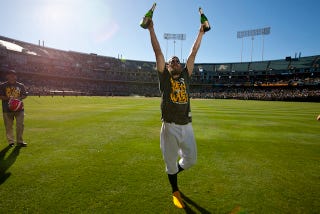 The Raiders announced that this Sunday's home game against the Chargers, originally scheduled for 4:25 pm ET, has been moved to 11:35 pm ET because O.co Coliseum will host Game 2 of the A's-Tigers ALDS series Saturday night. The switch was made to allow workers enough time to convert the Coliseum from a baseball park to a football stadium.
Texans-Niners will still air on NBC Sunday night as scheduled and Raiders-Chargers will be available on NFL Network and over the air, locally. That means more than 12 hours of football Sunday for many of us. There are worse ways to spend a Sunday. (For example, you could be switching O.Co Coliseum from ballpark to football stadium.)
The NFL is now, amazingly, 0-2 against MLB this year.