Oakland came in dead last in attendance this season, an average of 54,217 per game. That's just 86 percent of the capacity at O.co Coliseum, already one of the smallest stadiums in the NFL at 63,132. Not small enough. Nearly every game, the Raiders ran up against the NFL's blackout rules, which dictate that 85 percent of seats must be sold on the Thursday before game day. They were blacked out just once in 2012, but it was close.
CEO Amy Trask announced yesterday that the Raiders will be eliminating nearly 10,000 seats for next season, mostly by covering up Mount Davis with a tarp. Mount Davis is the nickname given to the tier of seats installed in a 1996 renovation, ruining the backdrop view of the Oakland hills that were a staple at A's games. They're steep (nearly to the point of being unsafe) and the upper reaches are comically distant from the action. And they've gone mostly empty, being tarped off for baseball since 2006.
"It's an ongoing commitment on our part to create a vibrant, vibrant game-day environment with a community of season-ticket holders," Trask said. And "we want to continue to provide the entire region with our games live locally on television."
NFL rules state that once a section is covered and eliminated for capacity purposes, it can't be re-opened at any point that season. Not even for playoffs, which, ha, no.
The Coliseum's new capacity will be 53,250, by far the smallest in the NFL. (Chicago's Soldier Field is second, at 61,500.) Season ticket prices are also being lowered across the board. The Raiders shouldn't have any problems avoiding blackouts, but the surest cure for attendance issues is winning. Covering up Mount Davis is easier, though.
G/O Media may get a commission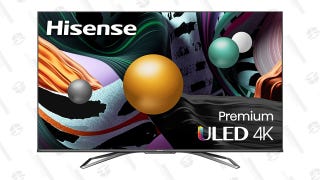 Save $350
Hisense ULED 65" Android 4K HDR Smart TV
Oakland Raiders to reduce capacity of stadium in order to avoid blackouts [Oakland Tribune]
Raiders will tarp top of Mount Davis [San Francisco Chronicle]