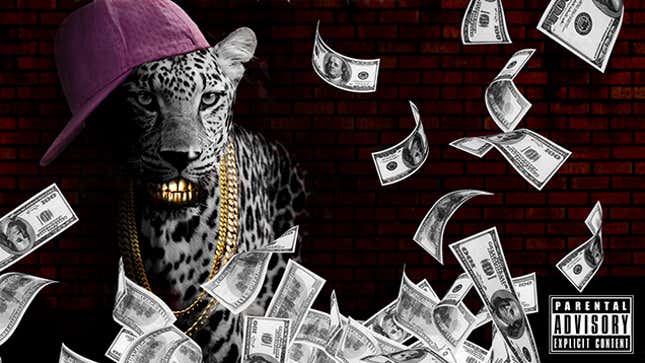 Meow the Jewels is a real thing. What started as a joke—with Run the Jewels, the acerbically bombastic rap duo of EL-P and Killer Mike, offering to re-record their fantastic new sophomore album, Run the Jewels 2, with "nothing but cat sounds for music" if someone gave them $40,000—has bloomed into a Rap Internet phenomenon after a waggish fan set up a Kickstarter page to back the project. At press time, it had raised more than $65,000, with other such feline-friendly producers and luminaries as Just Blaze, the Alchemist, Baauer, Geoff Barrow, and Zola Jesus signing on; their bluff duly called, everyone's new favorite rap tag team vowed that all the money raised will go to charity, and, yes, they'd make an entire record out of mews and purrs and screeches and what have you.
How running an NFL team is like running a restaurant | Chef Emeril Lagasse
And so, in honor of 2014 now clearly being the greatest ever year for rappers and cats, here's an authoritative guide to the esteemed interplay between two of the best things about the internet. Salute!
1973: It Begins
On August 11, DJ Kool Herc holds a party inside a modest recreation room at 1520 Sedgwick Avenue in the Bronx. He rents the space for $25, charges $.50 for entry (with ladies half-price), and provides a coat-check area and access to two bathrooms while he spins double copies of vinyl records and loops up the funkiest, most percussive parts. Hip-hop is created, but cats are overlooked: They are not featured on the flyer or in most common historical accounts of this momentous event. This despite the proliferation of abandoned buildings in the South Bronx at that time, which suggests that more than a few domestic shorthairs were scampering around and soaking up the breaks.
1979-1985: The "Old School" Era
Wherein rap turns its awkward baby steps into a cocksure stride, undoes its shoelaces, and establishes itself as America's greatest new musical form since jazz. But cats, being naturally wary, simply look on from the sidelines with a pensive and/or apathetic disposition at first, as if wanting to make sure this isn't just a fad before deigning to get involved.
1986: The Big Biz Breakthrough
Hurrah! History is made in the exclusive category of "portly and cartoonish beatboxers who imitate cat sounds during Golden Era rap recordings." Your fearless pioneer is Biz Markie, who long before claiming a karaoke classic with "Just a Friend" backs the sprightly young rap miss Roxanne Shante with a human-drum-machine routine that allows for some mellifluous caterwauling after Shante instructs, "Talk to the girls, you know they are wack / Tell those crabs they sound like cats."
1987: Just-Ice, Kitten Rescuer
Fresh from beating a murder rap down in Washington, D.C., the East Coast enforcer Just-Ice does a shoot for his Kool & Deadly album cover at rap super-photographer Janette Beckman's Lafayette Street studio in NYC. Many pictures of Just's fearsome grill are taken, but three weeks later, he returns with with a box in his hand. "There's this little tiny kitten in it," recalls Beckman now. "He tells me, 'It's this kitten I'm adopting—I found it, and I'm gonna call it Money Clip.' It's kinda like Of Mice and Men, this big scary man who's supposedly murdered numerous people, you don't know what, and he's got this soft spot, going around with this cat." Just, Janette, and Money Clip then partake in a nice cup of tea. (No photos, alas.)
1989: Walking With a Big Cat
In which a brash rap upstart from Queens named LL Cool J shows the world exactly how he enjoys day-to-day life on Farmers Boulevard by posing on the cover of his third album with a sleek black panther. Naturally, the beast is sporting a gargantuan dookie rope—and affecting a stance filled with a nonchalant menace. This might be the best album cover ever.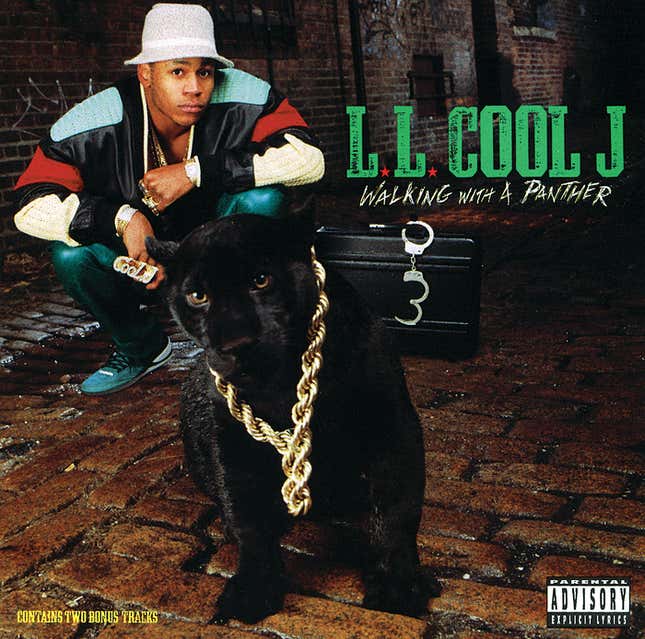 1989: Two Paws Forward
MC Skat Kat was ahead of his time.
1991: Slick Rick's Fancy Feast
In the svelte realm of rap songs ostensibly inspired by kitties, Slick Rick's "Top Cat" (from his sophomore album, The Ruler's Back) reigns supreme, from the recurring meows-as-percussion motif to the prancing, hissing metaphorical japes. Don't fight the imagery.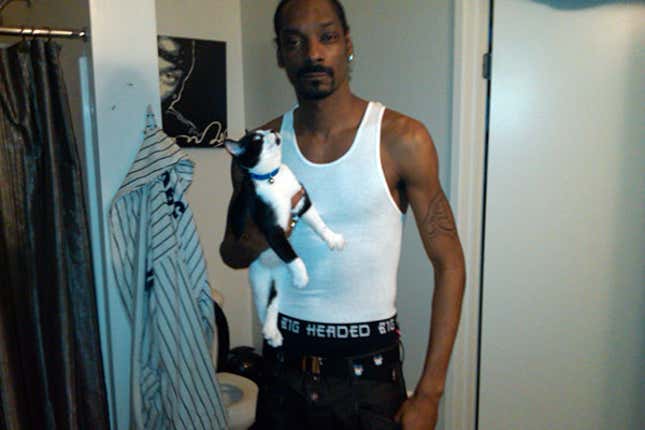 1992: Snoop Kitty Kat
The gangly Calvin Broadus announced himself to the world with the menace of a rabid, salivating Doberman on Dr. Dre's brooding "Deep Cover"; nicknamed Snoopy as a kid, he rechristens himself Snoop Doggy Dogg and runs with the pooch theme, naming his breakthrough 1993 debut Doggystyle and morphing into a hound during the "Who Am I (What's My Name)" video. But as with much gangsta rap, the image is all a facade, as revealed decades later when Kreayshawn, the esteemed Crazy Cat Lady of rap (more on her later), hangs out at his house one afternoon and discovers—oh, the shock! oh, the horror!—that the Doggfather actually cuddles up with a couple of cats at night, possibly on a Snoop Dogg-branded cashmere bed spread. Their names? Rick James and Teena Marie.
1993: Snagglepuss, Meet Snaggapuss
Wherein a Bronx-born rapper decides to approximate both the name and the vocal timbre of Hanna-Barbera's resident pink mountain lion. After coming up as part of Doo-Wop's Bounce Squad, he piques ears with a series of guest verses (including a turn on Brand Nubian's "Step Into Da Cipher") before heading out west to almost sign with Dr. Dre. "People had already told me I sounded like the cartoon, so it wasn't that far of a stretch," recalls Snagga in a dignified tone as he explains his decision to rap like a cartoon cat.
1994: Here, Kitty Kitty
Of course bass music is feline friendly! The 69 Boyz (later of "Tootsee Roll" fame) make the connection explicit in the flick for their salacious "Kitty Kitty," loading it with copious cat-morphing-into-a-woman-dressed-as-a-cat footage. Also, the cat raps. Although, confusingly, both the longhaired Persian and the female protagonist appear together at the start of the video as they take part in a bedside petting session.
1996: EL-P Adopts a Stray Cat
Back when Meow the Jewels was just a shimmer of a glint in the young rapper-producer's eye, El found himself adopting a stray kitty. "I had a cat until earlier this year, when I had to put her down," he tells me now. "She was a parting gift from a drunk girlfriend: She found the cat on the street at 4 a.m. and brought it to my house 18 years ago. The next day, she woke up like, 'Where did this cat come from?' I named her Mini Beast because she did nothing but wreck havoc in my apartment for the first year. Eventually, she grew into the sweetest little creature I've ever known. I was very sad to see her go." He'll even miss her little presents.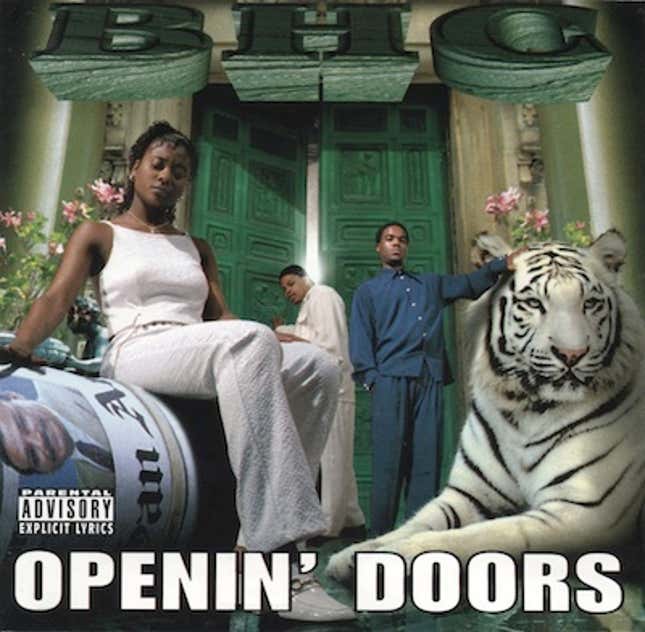 1997: The Kittenhood Creed
Album-cover designers Pen & Pixel strike one for the Big Cats movement with the art for Texas rap kids the Brotherhood Creed's Openin' Doors: The vibe is "formal, swanky dinner party with extraordinarily large newspaper," but the scale is batshit (he's probably petting the cat, not cleaning its ears), and there's no way that beast is getting through the front doors and taking up his place at the trough.
1998: Touring With the Lion
So Canibus, the original Internet Rapper from back in the days when knowing how to plug a modem into your landline meant you were a hip-hop messenger from the future, gets into a feud with LL Cool J and records a diss track titled "Second Round K.O." 'Bus soon fades from the spotlight—and blames Wyclef for his tepid debut album—but not before bringing out a fucking lion while performing his calling card on the Smoking Grooves tour. For his part, the seemingly unchained jungle dweller just sits there looking nonplussed during the festivities, occasionally licking his lips as though to embrace the calm before the mauling.
2000: The Last Emperor's Slender Frame Is Made for Pouncing
Philly rapper the Last Emperor answers many burning questions with the release of "The Jungle Cats," a song that envisions futuristic big cats beaming down to Earth and wreaking havoc as revenge for all of mankind's misdeeds. Props include the "cat gun," "catnip drinks," and the budget-kibble line Meow-Mix, while the star attraction's natty vocal tick is to pronounce part of his name with an audible purrrrrrr. Pioneering stuff.
2001: Who's Feeding Ms. Jackson's Cat?
OutKast's "Ms. Jackson" is revered as an emotionally wrought take on modern fractured relationships, but the song's video suggests a far more straightforward explanation for the tiff: While Big Boi galavants around with his happy hound, it seems that Andre 3000 has left a diminutive ginger tabby all alone in a dilapidated house literally on the cusp of ruin. Food and (more importantly!) fresh water do not seem present, possibly leaving Ms. Jackson to pour scorn on her no-account son-in-law's utter lack of responsibility. Moral: Never trust a rapper to feed your cat.
2008: The Revenge of Ms. Jackson's Cat
In Law & Order: SVU's greatest-ever hip-hop cameo, Big Boi portrays the gangsta rap chap Gots Money and becomes infatuated with the movie Scarface to the point where he owns a pet tiger—basically the wild cat you call on when you fail to find your domestic Bengal kitten stimulating enough. This also allows Big Boi to announce, on-camera, that he was "On eBay looking for a tiger." Spoiler alert: Gots Money eventually get savaged to smithereens by some hyenas. Remember: The cat family rolls deep.
2009: Thank You, Based Cat
The grand era of the rapper-owned, social-media-savvy cat begins! By now, Keke is renowned as the kitty adopted by the freewheelin' Lil B; the domestic shorthair's own Twitter account kicked off in December 2009. Ever the maverick, Lil B himself decides to tweet his own tips for responsible pet ownership soon after rescuing her, one of which is to refrain from self-abuse. The rapper also uploads bonus video footage that shows him brazenly petting Keke's fur against the grain, whereupon the cat bites him. Repeatedly.
2009: J. Cole Is Simba
Apparently a veritable young lion in the booth, Jay Z protégé J. Cole decides to record the first of a series of songs in honor of The Lion King; the fiery "Simba" ends with the vow, "I can't wait to be the king, nigga / Young Simba." Cole goes on to cut two more installments of the song—"Grown Simba" and "The Return of Simba"—with the latter utilizing imagery from the Disney movie for its artwork. Reports that the trilogy has since inspired Young Thug to pen a song casting himself as Jiji from Kiki's Delivery Service are as yet unconfirmed.
2010: Tyler, the Cat Person
Here in the midst of L.A crew Odd Future's breakthrough year of rowdy, problematic rabble-rousing, de facto movement leader Tyler, the Creator reveals himself to be besotted with the feline form: If he's not putting kitty heads on flyers or t-shirts, he's meeting up with Grumpy Cat. An entire area of the Internet seems to have been sectioned off as Tyler's official cat haven; if you bring it, he will pose with it.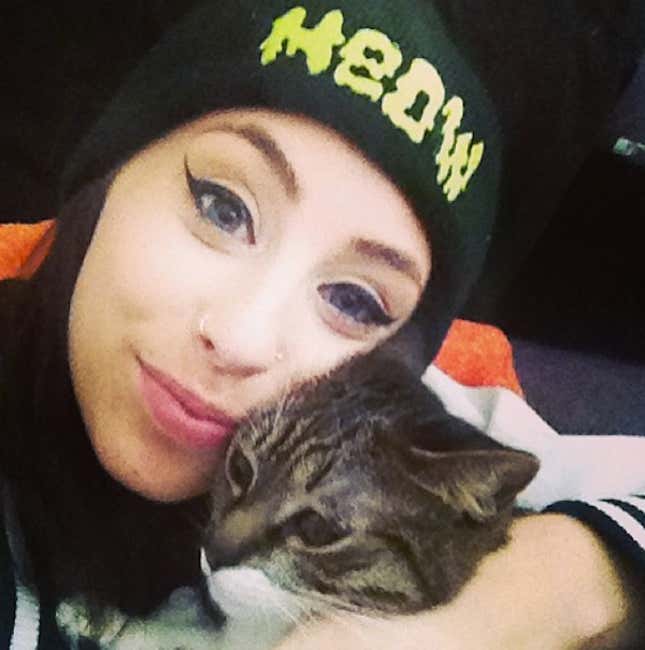 2011: Rap's Crazy Cat Lady
Ah, the summer of '11, when "Gucci, Gucci" was the fluke hit that launched a thousand think pieces. Sure, why not. But for those of a feline bent, the most intriguing part about Kreayshawn's breakthrough was her proud Crazy Cat Lady status. She named her most notable mixtape after her two felines, Choppa and Kitty, and after signing to Columbia Records for a reported gazillion bucks, she mentioned that her first purchase would be a Petco cat tower for her darling rescues. (Rap-cat trivia: Choppa has only half a tail!) Her kittenish side also has claws: She once revealed that she was given a cat as a gift for her 18th birthday, but it kept crapping in the shower, so she passed it on to an unwitting nemesis.
2011: Rags Lauren's Improbable Rise
It was a dark and stormy evening outside NYC's Stadium Red studio when Justin Smith, aka superproducer Just Blaze (clients: Jay, 'Ye, and Bawse) noticed a distressed and malnourished cat. An animal person at heart, Smith stayed with the scamp for a good half-hour, though he got drenched in the process; after a subsequent vet visit, the cat leapt on the social media bandwagon and started a Twitter account with the bio, "Meow! Meow! I went from rags to riches. My savior is Justin Smith." Whether this is a true tale or Rick Ross-style subterfuge remains to be seen, but Rags haunts Stadium Red still (there he is with CeeLo, below), though back in 2011, Smith noted that he hadn't yet recorded the cat's no-doubt dulcet meow. Now is the time.
2011: The Ballad of Mr. Drummer
As one-third of Dilated Peoples, the rapper Evidence made a name for himself as one of the West Coast's leading lights in the fabled indie-rap movement of the late '90s. As his career has progressed, though, he's proved a preference for embracing that most independent of creatures: the cat. Mr. Drummer was his last furry companion's name, a cute cow cat who reputedly had a habit of sniffing his way into bags of marijuana. Sadly, he passed away before the release of Ev's latest project, though the rapper's commitment to the feline form was immortalized on the cover of his 2011 solo effort Cat & Dogs. (Pro tip: Photoshop out the pooch.)
2011: The Further Revenge of Ms. Jackson's Cat
Speculation: As some sort of out-of-court settlement for Andre 3000's gross lack of cat care during the "Ms. Jackson" debacle, a very similar (but noticeably more weathered) tabby is offered the opportunity to rap Andre's guest verse on Lloyd's "Dedication to My Ex (Miss That)." The fun starts at 2:25.
2012: Keke Possibly Makes Some Sort of History
Towards the tail end of 2012, Lil B helped Keke claim the honor of being the first-ever rapping cat to release his or her own song, though that title is extremely unofficial; in any event, around 350,000 brave souls have since listened to the kitty's rudimentary flow and guttural purr on YouTube. You can garner more enlightenment about the creative tryst from the song's (naturally all-caps) explanatory blurb:
PRODUCED BY LIL B! THIS IS AMAZIING!!! HOW WAS THIS DONE?

KEKE THE ADOPTED TABBY CAT, SOME CALL HER KEKE THE BASED CAT HAS MADE HISTORY! WITH HER PROUD FRIEND LIL B, THEY BOTH ARE EXTREMLY HAPPY TO SPREAD LOVE WITH HUMANS AND ANIMALS TOGETHER, KEKE HAS WAITED A LONG TIME AND SAID THERE IS MORE COMING SOON MABY, LETS TAKE OUR TIME, TODAY ITS THANK YOU BASEDGOD FIRST, THEN THANK YOU LIL B...
Quite.
2012: Cee-Lo Green and His Purrfect Impurrfections
In which the former Goodie Mob luminary completes his ascent into the mainstream by appearing as a judge on The Voice with a very plush and very long-haired all-white cat. Despite being a doppelgänger for the famed Fancy Feast feline, in real life Cee-Lo's companion is a rescue-tuned-rental cat named Purrfect.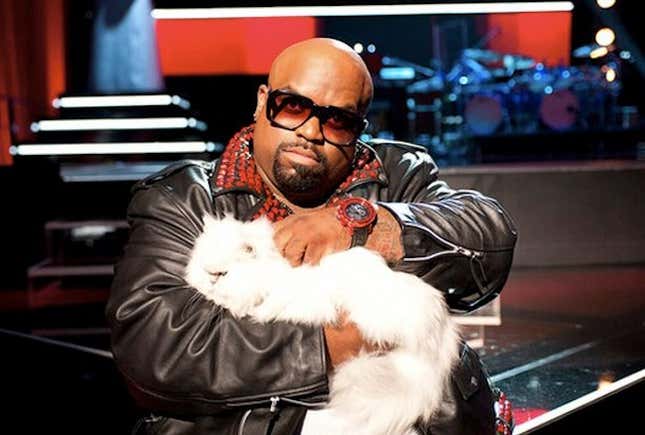 2012: Kanye West: Cat-Killer Extraordinaire
Standard decorum decrees that it's always bad form to gift someone a cat. Yet that didn't stop ol' rule breaker Kanye West from gifting a bushy lil' white thing to Kim Kardashian, and then maybe bullying her into naming it after his song "Mercy." The story gets worse: After using Mercy as a handbag stand-in around town, Kim apparently decided the cat was too much work or that she was allergic to it (Illuminati truth: No one is really allergic to cats), and palmed it off on her sister's assistant. Then Mercy passed away. Remember: A Kardashian is for life, not just for Christmas.
2012: Top Dog Entertainment Purrs
Closing out the first verse of his smutty "There He Go," Kendrick Lamar's pal Schoolboy Q weaves in the line "Purr, [additional "purr" sound], I love that kitty cat." Somewhere, the Last Emperor is speed-dialing his lawyers.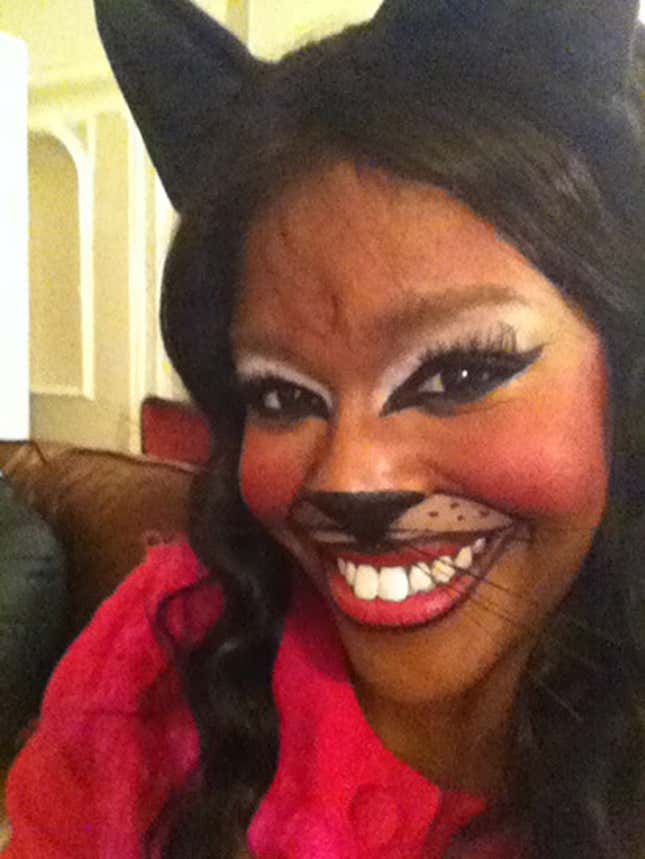 2012: Azealia Banks Gets Friskier
With her catty raps and kittenish flow, Azealia Banks piqued everyone's excitement when she dropped the risqué dance-rap ditty "212." Showing her commitment to the cat cause, she then dressed up as a cat to attend the Met Gala with Alexander Wang (cat ownership status: unknown), and accessorized with a couple of Prada kitty purses. Banks's big-bucks major-label deal might have since fizzled out, but her Twitter antics at least will live in legend, and she can sleep soundly knowing that in years to come, she'll be one immaculately dressed crazy old cat lady on the A train.
2012: Fif's Frisky Felines
Bored with attempting to start cat fights between Oprah and Gayle, 50 Cent tries to resurrect his old-fashioned rapping career with the Jeremih-assisted single "Girls Go Wild." A planned video is hastily scrapped, and Fif's love of ladies body-painted to look like big cats soon resurfaces in his clip for "Off and On," but nothing beats this cover art: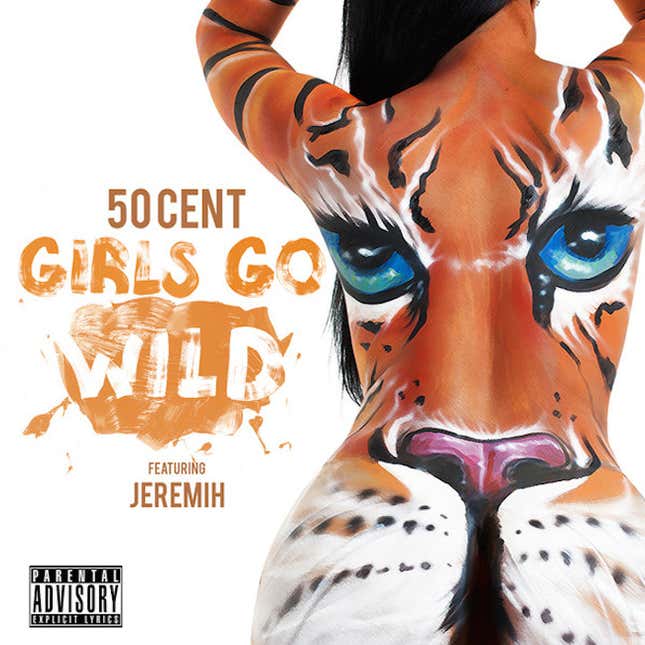 2012: Aesop Rock, Responsible Cat Owner
After calling on the thespian talents of cats in a promotional video for his Skelethon album, Aesop Rock outlines his tips for responsible cat ownership. They include monitoring the litter-box situation, avoiding feeding felines "people food," and being very cautious if you ever attempt to bathe a furball. Also, sagely parting words: "Cats seem to pretty much not give a fuck about music, which is all the more reason to love them."
2013: The Year of the Big Cat
Big-budget rap goes big-cat-crazy: Rick Ross stokes the ire of PETA supporters the world over by Instagramming a pic of what seems to be a baby mountain lion, Tyga poses on the cover of his Hotel California album with a regal-looking tiger, and French Montana captions a picture of himself holding two furry cubs with, "Got so high last night, bought 2 baby tigers." It's as if none of them have ever seen Law & Order: SVU, episode seven, season 10.
2013: Macklemore's True Legacy
Let the hip-hop history books show that Macklemore is an adept feline handler, as his textbook video "How to Hold a Cat" demonstrates. Also, his cat is called Cairo and has a very cool Instagram account. (Not to be confused with Cairothecat's account, which is LOL-certified pics of cats getting stuck inside domestic objects.)
2013: Shit You Can Spray on Shit
They're all at it by now! Danny Brown, Detroit's premier lovable rap oddball, has a cat called Siren. She's a Bengal (think a hyperactive, ADHD-riddled toddler) and possibly has a problem with scratching up the furniture. We know this because Danny invited The Fader's cameras to watch him go shopping for cat toys, trinkets, and treats, and then employed his best Wu-Tang Clan skit voice to ask a pet store assistant, "Where is the shit you can spray on shit and then she don't fuck with the shit?"
2013: Crowd-Surfing Cats
Sitting in a bar in Bushwick while sampling an array of budget beers, the Houston-based rapper Fat Tony reveals that during a show in a town just outside of Dallas with the fellow rapper Antwon, cat surfing ensued. "A guy got a stray cat from off the street, brought the cat inside, and started crowd-surfing the cat," he recalls between sips of a South Korean brew. "Kids were passing the cat around. Then people were excited but also pissed, like it was animal cruelty. This girl grabbed the cat from him and took it outside to, like, rescue the cat." Tony also recommends playing his song "Frenzy" for future cat-surfing escapades.
2014: Introducing Uptown Dolly
Underground icon Jean Grae takes time out from penning the gripping emoji novella The Legend Of CatBoar to hold a Hugstation event in Union Square. A kitten named Uptown Dolly turns up and duly gets its free hug. Hearts swell up on so many levels.
2014: Meowa!
You might expect a man who once titled an album The Brick: Bodega Chronicles to be a champion of those raggedy kitties who prowl the dusty shelves of corner stores. Ever the trickster, though, Joell Ortiz owns what is without doubt a remarkably well-groomed puss with a substantial hair length. He's named Meowa, after his master's own "Yoawa" catchphrase. Also: Proving that when in doubt, just stick a cat pic on something, Ortiz's lady gifted him a cellphone case with a picture of his cat on it.
2014: The Return of the Biz!
Cat-rap pioneer Biz Markie returns to voices Kenny the Cat on an episode of Spongebob Squarepants. "I'm just a cat with a dream: a dream to give the gift of hope," he emotes, having been officially granted license to speak for cats the world over.
2014: Meow the Jewels Is the Future
So this thing is a go, and clearly has a long lineage to draw from. As the grand commander of the project, EL-P is currently in the process of auditioning felines. And what's he looking for? "Ambition, direction, meowing."
---
Phillip Mlynar lives in Queens, NYC. When not writing about rappers for Red Bull, NYLON, and the Village Voice, he muses on the feline form for Catster. His Twitter claims he's the world's foremost expert on rappers' cats.
Lead art by Tara Jacoby; images via Shutterstock.
The Concourse is Deadspin's home for culture/food/whatever coverage. Follow us on Twitter.