Cardinals running back Rashard Mendenhall surprisingly announced his retirement at the age of 26 today. While Arizona looked ready to move on from him anyway, Mendenhall says—among other things—that he's choosing to step away in an essay on Huffington Post.
Mendenhall stressed that he loved football and the NFL, even if he didn't always show it, but wasn't too fond of the vitriol that came with it.
Imagine having a job where you're always on duty, and can never fully relax or you just may drown. Having to fight through waves and currents of praise and criticism, but mostly hate. I can't even count how many times I've been called a 'dumb nigger'. There is a bold coarseness you receive from non-supporters that seems to only exist on the Internet. However, even if you try to avoid these things completely — because I've tried — somehow they still reach you. If not first-hand, then through friends and loved ones who take to heart all that they read and hear. I'm not a terribly sensitive person, so this stuff never really bothered me. That was until I realized that it actually had an impact my career. Over my career, I would learn that everything people say behind these computer and smartphones actually shape the perception of you — the brand, the athlete and the person. Go figure!
The hatred is despicable, but Mendenhall's last line is interesting. He's the one who publicly wondered out loud about the September 11th attacks being part of a conspiracy when Osama bin Laden was killed. It came from his Twitter account. Maybe he worded his discussion poorly, but those were his words.
Anyway, the former running back says he is grateful for his time in the NFL and the Super Bowl ring he won with the Steelers, but he wants to end his career a healthy man.
So when they ask me why I want to leave the NFL at the age of 26, I tell them that I've greatly enjoyed my time, but I no longer wish to put my body at risk for the sake of entertainment. I think about the rest of my life and I want to live it with much quality. And physically, I am grateful that I can walk away feeling as good as I did when I stepped into it.
G/O Media may get a commission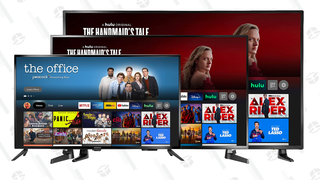 Up to 44% off
Prime Early Access - Insignia Fire TVs
Mendenhall isn't sure what he'll do next, but he wants to "LIVE!" (Capital letters his.) He has interests in dance, art, and literature, and he has written for HuffPo before. Maybe he'll latch on to a blog somewhere.
[HuffPo]