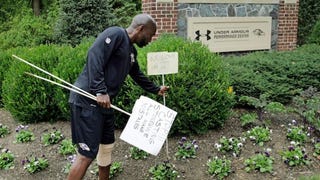 When news broke last night that the Baltimore Ravens' head of security, Darren Sanders, had been charged with sexual assault, details were slim. But now TMZ has gotten a copy of the police report, and is reporting that Sanders is accused of assaulting an M&T Bank Stadium employee during the Ravens' game against the Browns on Dec. 14.
Here's TMZ:
The woman claims while doing the escort, Sanders "hit and/or groped her buttocks more than once as they walked down the third level hallway."

The woman claims the abuse continued when they got to the 3rd floor lobby ... when he "pressed his body against her's and kissed her neck and attempted to force her to grab his penis."

The woman says she was able to walk away—and immediately told 4 co-workers about the incident.
Lawyers representing Sanders have publicly claimed that their client, who was a detective for the Baltimore City Police Department before joining the Ravens in 2004, is innocent.
Update: Below is the full police report.
[TMZ]