It's easy enough to be cynical about Ray Lewis, after the 17-year veteran linebacker announced his impending retirement yesterday. In the foreground, there's the recent image of Lewis, now that the years have reduced his ability to contribute on-field: the ridiculous, spasmodic dancing; the incessant sideline woofing; the hoarse, overwrought motivational speeches; the weird proclamations about evil's relationship to football. He's a self-caricature of fearsomeness, in the absence of fearsome play.
In the background, meanwhile, as everyone tries to put Lewis's legacy and his accomplishments into perspective, there's the looming, out-of-scale shadow of Jacinth Baker and Richard Lollar, who don't get to register their opinions, because they're dead. They bled out on the street in Atlanta 13 years ago, beaten and fatally knifed, after a brawl with Lewis and his friends outside a nightclub. Lewis fled with his companions in a stretch limo, disposing of his bloodstained suit somewhere along the way. He was initially indicted on a murder charge, then pleaded down to obstruction of justice after agreeing to testify against his friends Reginald Oakley and Joseph Sweeting. Neither was convicted, and Lewis eventually reached undisclosed cash settlements with the victims' families.
And there's the implicit connection between the murder trial and the overcooked shtick, Lewis's gridiron-preacherman persona as an attempt to bury the ugly parts of his past. Who can see his near-tearful true passion for the game, his insistent leadership, and think of the role he may have played in the murder of two men? In that light, there's something simultaneously desperate and calculating in his performance of the Platonic Ideal of the Middle Linebacker. Ray Lewis is all about football, and football isn't played outside nightclubs at 4 a.m.

But he did play football. And that was the thing that couldn't help but be overwhelming and inspiring about Ray Lewis—not the way he talked about playing, but the way he played. On Tuesday, University of South Carolina defensive end Jadeveon Clowney laid a hit on Michigan running back Vincent Smith that sent the internet into a tizzy. It was a wonderful hit, worthy of all the praise that was heaped upon it. Anyone who enjoyed watching Clowney annihilate Smith, though, should do themselves a favor and watch the tackles made by Ray Lewis in this highlight video.
G/O Media may get a commission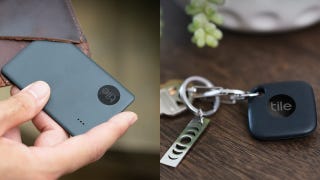 Up to 35% off
Tile Item Trackers
http://deadspin.com/5972378/jadeveon-clowney-decapitated-vincent-smith-then-palmed-the-football
Hit after hit is just as perfectly executed and sublimely violent as Clowney's. Lewis—with his speed, preternatural sense of where the play was going, and overwhelming physicality—spent his entire career making the kind of tackles that light up the internet today, tackle after tackle after tackle, hammering a shoulder into the ball carrier and dropping him securely to the ground. As a 22-year-old, he had 156 tackles in a season.
He was a terrifying physical presence, so much so that he could look like a Division I-bound prospect toying with the regular high-school kids. This was never more apparent than in the moments in which Lewis got his hands on a live ball, and the offensive players were forced to try and tackle the rolling granite boulder that Lewis would become. Right around the 7:10 mark in that highlight reel, there's the play in which Lewis yanks a bobbled ball and a chance at the AFC championship game away from Eddie George and the Tennessee Titans. George grabs his leg at midfield, and Lewis shakes him off. Crossing the 25, Lewis shrugs off a tackle from 6-foot-7, 320-pound lineman Fred Miller. Inside the 10, he outruns a diving Frank Wycheck. The Titans had the best record in the conference, and they couldn't do anything about him.
Lewis hasn't been the punishing player he once was for some time now. He's still the leader of the consistently excellent Ravens defense, but he spends much more of his time on the field jumping on the top of dogpiles rather than crushing running backs. The ascendancy of Ray Lewis the caricature over Ray Lewis the linebacker will likely continue, now that he's reportedly set to join ESPN as an NFL analyst. But if Lewis ends up as another finely clothed network shouting head, represented in flashback by dancing and screaming video segments, his meaning to the game rendered inflated and hollow, I'll just miss watching him hit people.