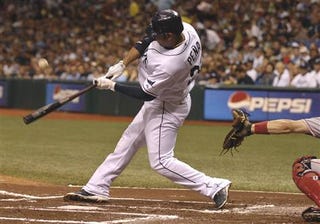 So what happened to Jonathan Papelbon's prediction of fisticuffs and other mayhem when the Red Sox returned to Tropicana Field? No brushbacks or punches or obscene gestures ... all we got was some lame identity theft. Rays manager Joe Maddon spent much of Monday trying to cancel his debiit card, which was being used by someone to buy gas in New York. I did not pay extra to Comcast for white collar crime! Damn it. So The Rays prevailed 5-4, moving 1 1/2 games ahead of second-place Boston in the East, and claiming the best record in baseball at 50-32.
Tampa has won six of seven and is 4-0 against the Red Sox at Tropicana. And to tell you the truth I'm already tired of them. When Dickie Vitale jumps on the bandwagon — as we saw here earlier — it's time to turn the channel. Anyway it was the first meeting between the teams since June 5, when a donnybrook led to eight suspensions. One of those was James Shields, who went 6 1/3 innings for the win. B.J. Upton and Gabe Gross homered for the Rays. Coco Crisp didn't play for Boston — he's still serving a suspension for charging the mound in that June 5 game. Bad Coco!
• Slam Poetry. The Indians don't like to see the bases loaded against them, so they empty them out as soon as possible. Cleveland has given up eight grand slams this season — most in the majors — which includes Nick Swisher's effort in the White Sox's 9-7 win. Swisher has two grand slams in four games.
• Big Happenings At The Bottom Of The Standings. Ken Griffey Jr.'s walkoff homer — No. 603 of his career — gave the Reds a 4-3 win over the Pirates.
• More Walkoff Goodness. Hanley Ramirez had a solo homer in the ninth to tie it, and teammate Josh Willingham homered in the 10th to win it for the Marlins, 6-5 over the Nationals. So unlike the Nationals to squander a lead like that.
• Wizard Cat Defensive Player Of The Day. Home plate umpire James Hoye. Twins manager Ron Gardenhire was incensed over Hoye's failure to issue a warning about throwing inside to Joe Mauer. Magic words were uttered, and Hoye ejected the manager. You have to kind of admire Hoye here, who did not act like a over-officious jerk, as umpires often do in arguments. Wizard Cat gives this ejection: Four wands.
Contact Wizard Cat at Wizardcat@live.com