The internet's not written in pencil, it's written in ink, or something. If you've spent your entire writing life online, it's likely that some Googlebot has crawled your pages, archiving every word you've ever written. But older writers who were young hacks shouldn't have to worry: their words were printed, not posted.
Unless, of course, those older writers go on to write New York Times bestsellers and start websites that plan on saving sports journalism, at which point people go dig up things they wrote in your early years. We already had some of Bill Simmons' pop-tastic coverage of Massachusetts high school football, and now the Boston Phoenix has posted three of Simmons' earliest columns. They're long and about Boston sports, with some film references mixed in. (Naturally.)
But they show a careful, not-so-chatty tone. It's unlike the one Simmons uses today, where it seems that he dictates all of his columns out of the side of his mouth at some loud sports bar (and takes no edits).
Here he is on the curse of Len Bias:
They play in a 21st-century stadium now, an impeccably kept arena with luxury boxes, laser lights, roomy bathrooms, and shiny yellow seats. When players are introduced before home games, the joint turns dark and the spanking-new video scoreboard plays a 90-second film clip of nostalgic highlights—there's Havlicek stealing the ball, there's Bird, there's Red, there's Russell... boom, boom, boom—and lasers beam across the stadium until the embarrassed starters finally jog out under a white-hot spotlight. During the game itself, the scoreboard runs trivia questions and replays, and loudspeakers crank songs from Pearl Jam and U2 during timeouts.

It's 1995. There are 29 teams in the National Basketball Association today. If you close your eyes and listen to the sounds of the Fleet Center, the Celtics could be any one of them. If you open your eyes and watch them play, you realize they are any one of them.

Nine years have pasted since Boston won its 16th championship, the last prize of a remarkable run spread over three decades and three different generations of teams. Boston has found a way. Always. There was always a new team to fleece, a new diamond in the rough, another veteran waiting to be rejuvenated. Maybe it was president Red Auerbach's wisdom, the Garden's magic, or the wily Leprechaun. Maybe it was all three. But the Celtics were undeniably different. A breed apart. The best.

The '86 championship team carried the torch, an unstoppable bunch that rolled off 67 wins during the regular season and squandered one home game all year.They had three players at their absolute prime (Kevin McHale, Larry Bird, and Robert Parish) and the number-two choice in the upcoming college draft, which they had picked up from Seattle two years earlier. On June 19, a week after blowing Houston off the Garden parquet for the NBA title, the Celtics selected Len Bias from the University of Maryland. Around the NBA, shoulders sagged. An explosive forward with no weaknesses, Bias was actually dubbed "a taller Michael Jordan" by NBA scouts. It seemed almost unfair.

Except that Len Bias was a Boston Celtic for only two days. He flew to Boston on the 20th for a press conference, beaming, saying all the right things, promising to return for the Celtics's rookie camp in August. That night he flew back to Maryland, where his friends threw him a huge off-campus bash. Somewhere along the line, cocaine was provided. Feeling young, feeling on top of the world, Bias snorted a few lines.

The Celtics would never be the same. Bias went into cardiac arrest in the early morning hours and was pronounced dead at 8:30 a.m.

"That's it, right there," says Sports Illustrated writer Jack McCallum, who covered the NBA during the mid '80s. "When Bias died, that seemed to begin a run of luck against the team that defies imagination. There just seems to be a cloud over the Celtics now that nobody can do anything about."
G/O Media may get a commission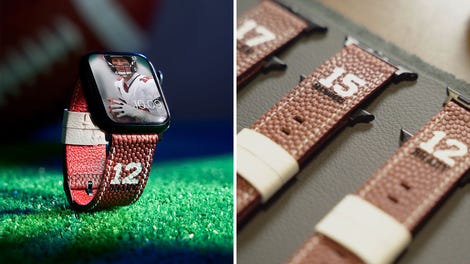 Official NFL PRODUCTS
Official NFL Apple Watch Bands
And it takes him many more paragraphs to get to a Godfather reference. Hazy days.
Bill Simmons Archive [Boston Phoenix]