It is a pleasant surprise that this lawsuit, filed today by New England Patriots fans against the NFL, is not scrawled in crayon on the back of a Papa Gino's placemat, or smeared in shit on the wall of a truck-stop bathroom. But then you read it, and it might as well be: it accuses the NFL, in punishing the Patriots and Tom Brady for allegedly deflating footballs, of violating the U.S.'s RICO Act, usually invoked for organized crime.
The suit, filed in a Boston federal court by seven fans (collectively, the plaintiffs are referred to as "New England Patriots Fans"), names the NFL, Roger Goodell, and Robert Kraft as defendants. And they're looking for a judge to overturn the NFL's decision to strip the Patriots of a first-round draft pick, a sanction agreed to by Kraft.
In the suit, they accuse the NFL of a whole bunch of things. These are just a few:

Violation of the Massachusetts Consumer Protection Act.

Breach of contract. (The contract being an implied one, between the NFL and Patriots fans, promising that fans' favorite teams are legally mandated to receive draft picks.)

Fraud

Negligence

Infliction of emotional distress. (One Plaintiff claims his seven-year-old daughter is so upset by the persecution of the Patriots that she now refuses to attend games with him.)

Violation of the RICO Act. ("Defendants...engaged in a pattern of racketeering activity...as a material element of their scheme to defraud the Plaintiffs.")

G/O Media may get a commission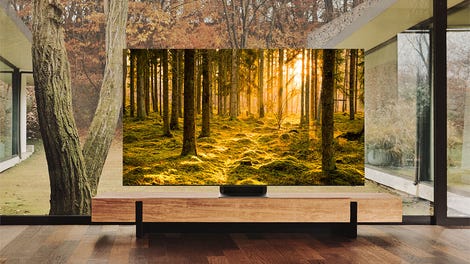 Up to 40% off
Samsung Smart TVs
While the NFL's handling of Ballghazi has been laughable, incompetent, and unfair, I am fairly sure that Patriots fans do not have standing here, and that you should read this suit and laugh at it and then come to the comments where I tell you what I found when I googled the lawyer who wrote it up.