Atlético Madrid—at least the unrelenting, ever-charging, indefatigable version that has taken Madrid, Spain, Europe, and the entire soccer-loving world by storm this season—outclassed, out-ran, and out-fought Real Madrid en route to a 1-0 Champions League win on Saturday. Unfortunately, that iteration of Atlético only had enough fuel for 70 minutes, so Real Madrid ultimately triumphed, 4-1.
It's almost uncanny how completely the game turned after the 70 minute mark. Prior to that, it really looked like Atléti would cruise to a domestic-Champions League double the likes of which may never be seen again. After a cagey start, with both sides cautiously prodding their way forward, trying to feel the other's weak points without exposing any of their own, Atlético began to grow into their game. They were happy to concede Real possession outside of dangerous areas, until a pack of red-and-white shirts could surround a stray ball carrier, dispossess him, and go sprinting towards goal.
The opener came from a set piece, of course, the type of goal Atlético scored more than anyone else in this year's Champions League. Gabi swung in a corner, Real headed the first attempt away, Juanfran head-butted it back into the box, and Diego Godín just managed to climb a bit higher than Sami Khedira to nod the ball on. Iker Casillas, way out of position after for some reason attempting to clear Juanfran's header himself, tried to sprint back to corral the high-bouncing shot, but was too late.
After the first half, Cristiano Ronaldo was nowhere to be found, Gareth Bale had fluffed his team's best chance, and little brother Atlético Madrid had big bro Real against the ropes.
G/O Media may get a commission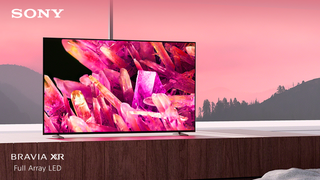 $400 off
Sony 55 Inch 4K Ultra HD TV X90K Series
Leave it to Diego Simeone to never rest on his laurels. The biggest badass in soccer today must've implored his charges to kill the game off after the break, because Atlético came out with even more passion and energy to start the second half. Adrian especially—an early substitute for Diego Costa, whose horse placenta treatment only granted him 9 minutes on the pitch—was chopping his way through the left wing, cutting in crosses that begged for a composed finish. Real too had better chances in this more open stage, but by the hour mark Atlético certainly looked more likely to score and put the game away than concede the equalizer.
But then the 70th minute came. The heroic, frankly unbelievable energy reserves Atlético was able to tap into La Liga match after La Liga match after Champions League match after Copa del Rey match for a squad whose rotation policy was basically "Anyone in the first 11 injured? No? Then let's run 'em out again!" was totally expended. Arda Turan was out injured from the La Liga final against Barcelona. One substitution was wasted on Costa. Another brought off Raúl García for the rarely-used José Sosa. Filipe Luís was eventually taken off due to injury.
That left two groups on the field for Atléti: The men who had played around 50 competitive matches in three key competitions this season and the rotation options only given game time when absolutely necessary. The former group could barely attack and could hardly defend. The latter weren't good enough at either to capitalize on their time on the pitch.
From the 70th minute on, it was all Real. Here's a breakdown of both teams' attacking third passes before the 70th minute and after:
In the final 50 minutes of the game, after what had been a slightly pro-Atlético hour-plus, a desperate Real Madrid smelled blood and was determined to taste it. Their dangerous passes were more frequent, more penetrating, and less susceptible to a threatening counter attack when they didn't work out. Even more telling are Atlético's tackle locations before the 70th minute and after:
When Atléti was still Atléti, they pressed the entire length of the pitch and turned those turnovers in Real's half into narrowly missed scoring opportunities. But with their energy gone, Atléti could only turtle up and hope their defensive shell wouldn't be breached. When they did manage to regain possession, it was so deep in their own territory that Real had time to cope with any attack, and only one or two Atlético players even had enough gas to try and counter in the first place.
Even then, Atlético Madrid almost hung on to victory. Real replaced the ineffectual Khedira with their live-wire attacker Isco, and brought on Marcelo, who completely changed the game with his rampaging runs from the fullback position. In fact, only Marcelo, Luka Modric, and man of the match Ángel di María could feel completely happy with how they played for their full time on the pitch. The two midfielders constantly threatened Atlético's defense, Modric with his passing, di María with his countless slaloms through the back line.
Still, Real Madrid were mere minutes away from death when Sergio Ramos's header from a corner saved them. From then on, there only looked like one winner. Di María and Marcelo overwhelmed the left wing with dribble after cross after shot, freeing Ronaldo to play more centrally. Bale was able to atone for his quiet game with a deceptively difficult headed goal after Thibaut Courtois could only deflect a di María blast. 2-1 Real. La Decima: captured. Celebration: commence.
Real made it look even easier when Marcelo sealed the game with an outside the box shot that typified the post-70th minute Atlético. Atléti's defense could do nothing in the face of Marcelo's pace and dribbling, so they kept dropping off and dropping off until the Brazilian had a clean look right at the heart of the goal.
Ronaldo didn't have a single memorable moment until very late in an already decided match, when he won a dubious penalty and converted it. We'll do him a favor and post the picture he so desperately wanted under the headline of every story on this final, but not before noting how irrelevant his contributions to the match really were—save making his little pouty face every time he swung in a harmless free kick after posing over the ball for a good two minutes.
It's hard to say either team "deserved" victory or defeat here or an any competition decided by such razor-thin margins, final scoreline notwithstanding. Atlético looked the better side in the first hour, but playing your best team every single match necessarily means fatigue will be an issue come the end of the season. Not too many Real players covered themselves in glory in the first 90 minutes, but the point of compiling a squad of so many ultra-talented figures in the starting lineup and the bench means in a single moment, a single player can win a match.
Rather than focusing on things like credit or blame, we should revel in this local derby played on the biggest stage possible that was as compelling as it promised. Atlético Madrid got this far by sticking with the horses who brought them. In the end, their tired legs could no longer pull the carriage. Real Madrid got here by amassing enough thoroughbreds not to rely on any one of them to drag them to victory. In the end, the show ponies got to preen, but it was the less heralded ones that made all the difference.