Here's a rec league email that is a departure from the overwrought screeds we are accustomed to receiving. This softball player decided to send his teammates a motivational email the morning after a tough loss, but instead of chiding them for their lack of hustle or giving a strategic dissertation, he went ahead and penned a poem. What a guy!
Jokic? Embiid? The NBA MVP is obvious... right? | Keep it a Buck(et)
Here's the email:
From: Redacted
Date: Tue, Jul 2, 2013 at 6:24 AM
Subject: Game day rhyme and more

The best thing about baseball is that you can do something about yesterday tomorrow."

So last night was last night and today is a different challenge. We played 6 great innings last night and one bad one. We totally outplayed them for those innings and that's got me pumped for our games tonight. To think that we only scored 6 runs and were on pace to win the game is crazy. We played incredible defense last night and hit subpar for us. While the green team had probably the best outfield we have played, we made it too easy for them with lots of pop outs, which we haven't done much of all year. Once again, we were one out away from winning last night and I have no doubt we can beat them 2 times tonight.

The team we play tonight got beat pretty bad by the green team so let's whoop some ass. I know most of y'all will be coming from work but try to come around 5:30 if you can. Please enjoy the poem that sums up the season and gets u ready for tonight.

This seasons been awesome because all of y'all,
Get ready for next season, which begins in the fall.
Minus a few innings, teams scored only seven,
Total Runs against us which is why we won 9 out of 11.
There's no doubt that our girls have helped us a lot,
Not only are they good, they are also all hot.
Our guys kicked some ass, thats all that ill say,
And most of them single, except maxwell who's gay (not really sorry man)

Maxwell this season, you actually got dirty,
You managed though to retain your title of most flirty.
Pat will one day talk about this season to his kid,
And how he tripped in the outfield and acted like he slid.
Andy has become mr baseball tonight,
That playoff game call, I thought you were going to fight.
Kyle can crush it over the fence any day,
You gotta harness that power, and keep it in play.
Kevin will always swing at the balls near his face,
Tomahawk chop them and run to third base.
Josh is the lefty that has lots of speed,
Starts the game off great, and gives us the lead.
Allison fields everything, turns two and loves when,
The outfielders come closer and she hits over the men.
Caitlyn is our second base lady vol,
She broke her pinky fielding a sharp hit ground ball.
Jennifer throws balls at a whole nother pace,
She's dares people to run, and guns them at 2nd base.
Sarah I'm sorry about that huge ass big bruise,
It was Josh's fault you leg turned 30 shades of blues.
Jackson has mastered the ground ball to the mound,
There are other positions to hit to, just look around.
Wendy has kicked ass at each position she's been at,
Except when almost got tossed for throwing her bat.
Since Fallon's been gone, nobody has talked shit,
To the umps about the strike zone or pitched a hissy fit!
Nikki my love, thanks for all your support,
I guess we see now, that softballs just not your sport! (joke love you)
There's been many more people who have helped us achieve,
Our regular season championship, and more I believe.

With 3 games to go, and 3 games to win,
Knocking the shit outta the ball is where we must begin.
Balls hit to right field and solid line drives,
Equal baserunners who score and get lots of high fives.
In games where it seems every pitch is called a ball,
Kevin take a deep breath, step back and stand tall.
We got your back man, cuz you are our pitch,
Our defense is crucial when the umpires a bitch,

Let's go out today and win by some slaughters,
Cause Jennifer has promised to buy us all baby waters.
My promise to y'all if we go all the way,
We head to the boat and fucking partay.
G/O Media may get a commission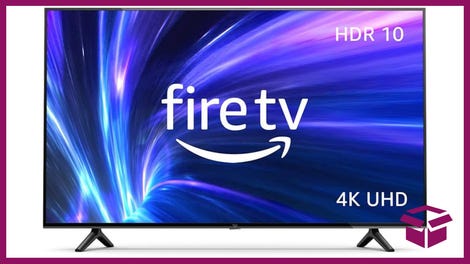 42% Off
Amazon Fire TV 50" 4K Smart TV
Hey, that was a pretty good poem (not really sorry man).