Yesterday, the Detroit Red Wings unveiled plans for their brand new publicly subsidized $450 million arena development. The arena, which promises to include $200 million additional investments in mixed-used development, will break ground in September. The Ilitch family, which owns the Red Wings and Tigers, is calling the new arena district a "bold vision" that will "generate at least $1.8 billion in total economic impact." Renderings were released and neighborhood names coined, because everyone wants sports franchises handling their urban planning.
You might remember the uproar over the arena deal—which includes $284.5 million in public investment—when it was originally announced last summer. Isn't this a terrible idea for a city wading through bankruptcy proceedings, people asked? (Yes, it is.) Couldn't those tax dollars be better spent on other infrastructure improvements in the area instead of lining the pockets of a wealthy pizza magnate? (Yes, they could have.)
You can read an excerpt of my dive into Detroit's arena deal and the absurdity of stadium welfare in America from March below, but first a quick primer on all the numbers getting thrown around.
The arena itself is estimated at $450 million, of which the city is paying $262 million—by way of tax increment financing (TIF)—for construction costs. That's 58 percent, not including any cost overruns. The entire project, including the mysterious promise of ancillary investment within five years of the first puck drop, is pegged at $650 million, with $284.5 million of that coming from the TIF.
Olympia, Ilitch's $2 billion empire, says the development will create 8,300 short-term construction jobs and 1,100 permanent positions. But when City Council approved the land transfer of 39 parcels (for $1!) in February, Council President Brenda Jones, along with two others, voted nay because Olympia balked at guaranteeing a specific percentage of post-construction jobs to actual residents of Detroit.
G/O Media may get a commission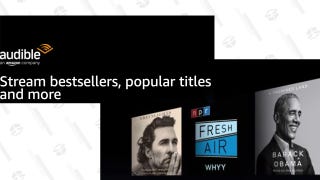 FREE
Audible Premium Plus 3-Month Free Trial
Not only is the city footing a good portion of the bill for construction (and possibly getting dicked out of jobs for residents), they're going to lose revenue when the Wings move into the new arena. Under Olympia's current deal with the city for Joe Louis, where the Wings have played since 1979, the city receives roughly $7 million annually in revenue from suite sales (7 percent), food and beverage concessions (10 percent), souvenir sales (5 percent), and ticket proceeds (10 percent). But under the new arena deal, they won't have to share any of the revenues with the city. And Olympia will get all the fees from naming rights, which can rack up millions annually.
The Ilitch family's net worth is estimated at $3.6 billion.
Photo via Associated Press