It's not that the Red Wings' trade of goalie Petr Mrazek to Philadelphia was any massive surprise, or even that the Flyers screwed Detroit with an unfair deal. But when you look at what the Red Wings got in return for a guy who was once thought the be the team's future cornerstone, it's pretty depressing.
The best sports movies according to Toheeb Jimoh
The move makes sense for everyone involved. Mrazek goes to a potentially playoff-bound team—which bolsters a depleted roster with a healthy, solid goalie—while his old, currently irrelevant team dumps an unnecessary guy they weren't going to resign. The 26-year-old Mrazek, who's mostly played a secondary role this season behind veteran Jimmy Howard, is on the verge of becoming a restricted free agent this offseason. On a $4 million annual salary, he's little but a burden for the Red Wings (who will continue to pay half of what he's owed while Mrazek plays out the year with the Flyers), but he may have some value where he's most desperately needed. The Flyers are facing down injuries to both Brian Elliott and Michal Neuvirth, neither of whom are definitely better than Mrazek when healthy. Philly's new goalie is no sought-after crown jewel, but this could be a step up for both player and team.
But it's hard not to see this as a reminder of just how bad things have become for both Mrazek and Detroit. As a 23-year-old, in his first full season as a starter, Mrazek boasted a promising .921 save percentage, pushing the eventual conference champion Lightning to seven games and hinting that he could be the regular Detroit goalie for the next decade to come. However, he plummeted in his follow-up season with just a .901 save percentage, and a goals-against average up from 2.33 to 3.04, with his weak showing contributing to the end of the Red Wings' 25-season playoff-appearance streak. He's leveled out slightly this year, but it doesn't look like Mrazek has the potential anymore to be anything but a decent journeyman.
G/O Media may get a commission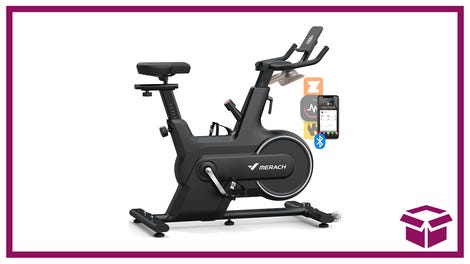 14% off + Coupon
Merach Indoor Cycling Bike
So, bummer for Detroit, who could have dealt Mrazek a while ago for a much sweeter deal than a couple of middling draft picks. And maybe a bonus for Philly, who lacks a reliable option in net and could be getting lucky. But the one clear message of this trade is that, for at least the next few years, the Red Wings will not be trying to win. Jimmy Howard, who has one year left on his contract, is only getting older, and Mrazek will presumably be replaced by Jared Coreau, a 26-year-old who has struggled immensely in his limited NHL experience. There is nothing on the ice in Detroit except very, very distant glimmers of hope and reminders of past success. For the foreseeable future, Hockeytown is now Tank City.