The heckling began the moment Reggie Evans stepped out onto the floor to start pregame warmups.
"Hey Evans, you're the reason the Sonics left Seattle!"
Reggie looked around, but the shifting colors of fans entering the Staples Center made locating the voice a chore. He returned to the layup line.
"Hey Evans, I got a pair of danglers you can grab!"
Reggie winced. He'd only just restored his friendship with Chris Kaman, one severed by a single regrettable act so many years ago. The pair had been thick as thieves before that, competing in summer leagues together and sharing a common interest in enchiladas and the Japanese baseball manga Major. He would be facing Kaman's team this very evening, in fact, and Reggie's fingers tingled.
G/O Media may get a commission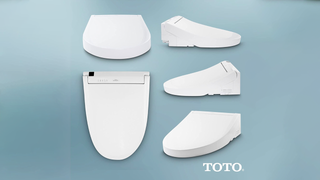 44% off
Toto Washlet Electronic Bidet Toilet Seat
The heckler continued his barrage of abuse after the game tipped off. Reggie wasn't even in the game, and knew if he turned around to locate the source of the shrill-but-unmistakably-male voice he'd simply invite more invective. The first quarter passed to the second, and Evans finally got the nod from Vinny Del Negro to spell Blake Griffin. The voice rang out again after Evans picked up an offensive foul:
"Evans! Leave running over people to Lindsay Lohan!"
Reggie pressed on, though, and tipped in a rebound a few minutes later—drawing a foul in the process. He loped to the top of the key, eyes scanning the crowd with a focus he'd learned from late nights playing Battlefield 3. The heckler opened his mouth, then fell silent as his eyes met Evans's.
Reggie raised his middle finger, wiping it across his face in a grotesque and somewhat erotic manner, his eyes never leaving those of the man who'd tormented him so much that evening. It was a nonverbal message, but one he tried as hard as hard as he could to transmit telepathically.
It worked, and Bill Simmons wasn't heard from for the rest of the night.