When the first plane hit the north tower of the World Trade Center, it was 1:45 p.m. in London; preparations were well underway across Europe for the eight Champions League matches set to kick off later in the day. The matches went ahead, but the next day UEFA postponed the week's remaining eight Champions League matches, as well as 41 UEFA Cup ties, as "a mark of respect and in recognition of the terrible events in the United States."
Ohtani has the WBC, but will Mike Trout ever lead the Angels to a championship? | Agree to Disagree
One of the 98 teams that was affected by the postponement was Chelsea. By virtue of a sixth place Premier League finish (right behind Ipswich Town!) the year before, Chelsea was set to play Bulgarian club Levski Sofia in the first round of the UEFA Cup (reformatted and renamed the Europa League in 2009) at Stamford Bridge on Thursday, September 13.
In those days before the club was able to buy superstars like Andriy Shevchenko, Michael Essien, Didier Drogba, and Shaun Wright-Phillips (lol) thanks to the deep pockets of Russian oil gazillionaire Roman Abramovich, the big summer signing was £11 million paid for West Ham's Frank Lampard.
Lampard would go on to become Chelsea's all-time leading scorer—and the Premier League's 4th all-time scorer—but at the time, he was just a talented player pissed at his and his family's treatment by West Ham and its supporters. His father was the assistant manager (under his uncle, Harry Redknapp) and he was thought of by many as a daddy's boy benefitting from nepotism. He was looking for a new start with a similarly-statured crosstown club.
G/O Media may get a commission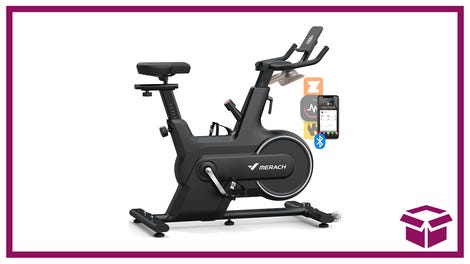 14% off + Coupon
Merach Indoor Cycling Bike
John Terry, before becoming a club and country stalwart, was looking to solidify his place in the starting XI. He was just 20, coming off a season in which he made 23 starts yet had been voted the club's player of the year. The Sept. 13 match against Levski Sofia was to be just Terry's second ever European match, after a 1999 UEFA Cup Winners' Cup tie.
After the postponement, and with four days until Chelsea's Premier League match against Tottenham, Terry and Lampard—along with teammates Jody Morris, Eidur Gudjohnsen, and then-Leicester City (and former Chelsea) player Frank Sinclair—did what you'd probably expect a bunch of rich twenty-somethings with some free time to do: they went out drinking.
Here is how Frank Lampard described the mood of the day in his autobiography:
Some of the staff were very upset and when I found out the extent of what had happened I left Harlington immediately and spent the rest of the day in a horrified trance watching the news channels and trying to comprehend what was going on. I got a call from the club telling me that our UEFA Cup game which was scheduled for later in the week was likely to be called off but that I should report for training as usual.

The world was still in shock and the roads were noticeably quieter when I made my way towards the training ground which is adjacent to Heathrow Airport. The sombre atmosphere was made worse when Ranieri told me that my blood test had shown a low iron count and that I was being given the day off.
After going for a run, Lampard returned home to a message from Gudjohnsen that the next day's training had been cancelled, and some of the team were going out for lunch. He met the crew as they finished lunch and began drinking. They moved on to a second, third, and fourth pub, even though "one of the lads got a tip to say that we were being followed by someone from the press." The fifth, and final bar of the night was a Holiday Inn near Heathrow airport where, according to Lampard, they mostly behaved:
It was just after 5 o'clock and we had been at it for a few hours. They had Sky News on in the corner and some people were sat around waiting for answers the same as the rest of the world. I don't imagine our entrance was graceful but we found a table away from the main area where we could carry on with the banter without affecting anyone else. We ordered some food and drink and were in the mood to have a laugh.

It was the wrong decision, a stupid thing to do on the day after so many people had lost their lives in America. I look back now and I realize how naive it was to put ourselves in that situation. There is no excuse. As high-profile footballers it was a very bad idea to go out drinking at such a sensitive time.

However, I can honestly say that we did not at any point abuse any Americans who were in that bar. We didn't shout at them or moon at them. The most we were guilty of was being loud and a bit rowdy but we kept ourselves to ourselves. Of course, that was not how it appeared in the press.
Lampard's account differs greatly from contemporary news accounts. The story was broken on Sept. 23 by News of the World, a Rupert Murdoch-owned London tabloid known for its sensationalism (no easy feat among the vicious British tabs) that shut down in 2011 after it was revealed that NOTW staffers had hacked into phones belonging to 7 July 2005 bombing victims, relatives of killed British soliders, and a murdered chid, among numerous celebrity victims.
No, News of the World called it a (emphasis theirs) "FIVE-HOUR booze-fuelled rampage in the wake of the world's worst terrorist attack" that involved "STRIPPING naked, LAUGHING and VOMITING in front of shocked and grieving Americans in a hotel bar."
The paper's account begins at the second bar they visited, the Red Lion, where the Chelsea players got hammered, threw peanuts, and left a friend naked at a bus stop:

Red Lion landlord Joe O'Brien revealed: "The whole group were out of order, they'd had well enough to drink so I asked them to leave. They were upsetting other people in the bar."

Regular Dominic Jenkins added: "Nobody could believe it, especially after what had happened in America. The players had been told their game in Europe was off and they obviously didn't care who saw them getting drunk.

"I saw Lampard, Morris, Terry, Gudjohnsen and Sinclair sticking it away. Gudjohnsen was hammered and shouting out swearwords. They started throwing peanuts around. When they got outside they stripped one other lad who was with them — he wasn't a player — and left him naked at a bus stop."

Driver Warren Lunnon confirmed: "They were all hurling abuse at people and chucking things at the landlord.

"They were asked to be quiet but started piping up again. Lampard, Morris and Sinclair went out and urinated in a bin in the street."
After being turned away from their next stop, the group stumbled into the Porthouse (since acquired by Holiday Inn). That's where they ran into Americans—stranded at the near-Heathrow hotel in the wake of worldwide flight groundings—and somebody whipped their dick out:
Posthouse manager Vishal Ramkisson told us: "They were utterly disgusting. They just didn't seem to care about what had happened.

"We had a lot of Americans here and were simply trying to comfort them in their hour of need. Meanwhile these men were laughing and joking, taking off their clothes and abusing our guests.

"One of them was walking around laughing with everything hanging out while on TV there were crying firemen searching for bodies. It was sick."

[...]

There one of the players took off his trousers and pants and exposed himself to a packed bar watching TV footage of the tragedy across the Atlantic.

Hotel manager Mr Ramkisson said: "Where was their respect and dignity? As soon as they sat down things got out of hand. They began pestering some young ladies who were in the bar.

"The ladies were very upset so I went over and had a word. I could see these men were completely drunk.
While the account in Lampard's autobiography ends at the hotel, according to NOTW the players made it to a nearby bowling alley and began sliding head first down the lanes:
The final stop on their sordid afternoon out was the Air Bowl, a bowling alley next door to the Posthouse.

One bar worker — who did not want to be named — revealed: "They were a nightmare. Virtually all of the players were sliding down the lanes head first.

"Sinclair almost had his head chopped off by the mechanism at the end of the lane. People couldn't believe what was happening.
---
Chelsea came down on the players about as hard as they could, fining them each two weeks wages (the maximum allowable) and reading them the riot act. The club was informed of the players' actions by the NOTW, and each players gave an apology to the paper:
Lampard said: "If there were American people in the hotel who were upset by the way we behaved then we are very, very sorry. We have gone out and had a drink. We made a massive mistake."

Gudjohnsen admitted he felt ashamed. He said: "I would not like anyone to think that whatever went on was in any shape or form a lack of respect over what happened in America. We were very childish."

Morris confessed: "I feel terrible about this — it is something I wish had never happened."

And Terry added: "Our timing was terrible but we never wished to show any disrespect."
In his biography, Lampard added that the incident caused him to get dropped from upcoming World Cup Qualifiers:
To compound my misery I received a call from Sven-Goran Eriksson a few days later to tell me that I would not be considered for the upcoming England squad for the World Cup qualifying matches. He explained that the FA had instructed him that I was not to be picked but that he would speak to me again after all the furore had blown over.
The incident seemed to serve as a turning point for Lampard, as the 9/12 partying was at least the third time he had made the tabloids for drunken carousing. The accounts of two previous vacations to Ayia Napa, Cyprus had made the tabs, one of which included video of a wasted Lampard naked with women. And while he could never fully escape the papers—that's the life of a star soccer player in England—his future appearances were for considerably tamer episodes.
As for John Terry, it was just the beginning of a run that saw him accused of assault on a bouncer (he was acquitted) causing him to miss the 2002 World Cup; caught on security camera pissing in a glass and dropping it on the floor of a bar; fined for parking in a handicap space at a pizza place; stripped of the England captaincy after allegedly sleeping with teammate Wayne Bridge's wife; and being found guilty by an FA tribunal of racially abusing Anton Ferdinand.
Of course, if acting like dickheads was prohibitive, the Premier League—like all other professional sports leagues—wouldn't exist. Instead, with Lampard and Terry leading the line, Chelsea won three Premier League titles, one Champions League, one Europa League, four FA Cups, and two League Cups.
Photo via AP
---
E-mail: kevin.draper@deadspin.com | PGP key + fingerprint | DM: @kevinmdraper