Among NBA players who spent their entire careers with one team, only Kobe Bryant had a longer tenure with his than Tim Duncan. Duncan played 1,643 games for San Antonio, and no player and franchise are as synonymous as Duncan and the Spurs are. It's easy to forget, then, just how close he came to leaving San Antonio in 2000, after only three seasons with the Spurs.

A year after winning the 1999 NBA Finals, the Spurs whimpered out of their title defense in the first round to the Phoenix Suns. At that point, David Robinson and Avery Johnson were both 35, and Mario Elie was 37. Their core did not appear to be capable of running it back. Meanwhile, the Lakers and Blazers had started to turn into juggernauts.
Across the aisle, Orlando had just turned in a surprising 41-41 season, and the then-ascendant Doc Rivers was putting the recruiting pitch on Duncan, Tracy McGrady, and Grant Hill. The appeal was obvious: all three players had just finished up dead-end seasons with small market teams, and they had a chance to join up in a warm-weather city close to McGrady's and Duncan's homes. The Magic laid it on thick, and Hill signed quickly:
The Magic came hard. They flew Duncan in on a private jet. They super-imposed Hill and Duncan into Magic uniforms and slapped them on billboards around the city with the title "Imagine." The Epcot ball at Disney World was scribbled with "Grant Us Tim" in lights. And this: Then-Orlando resident Tiger Woods helped with the house-hunting.

[...]

Hill was sold and pledged on the spot. Duncan flew home and gave it some thought.
McGrady signed next, and sounded a lot like LeBron James guaranteeing seven titles for the Heat when speaking about the possibility of Duncan joining him and Hill:
"Once Grant and I get here, this will definitely be the city. The East is locked up. If Duncan comes here, it will be scary.


[...]

"It will be unfair to the league if all three of us come here. We have the East. We'll be playing the Lakers for years."
G/O Media may get a commission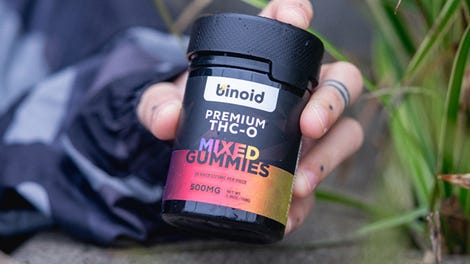 25% Off + Free Shipping
Binoid THC-O Gummies
Duncan was reportedly intrigued by the Magic's offer, and stayed an extra two days to hear more. Orlando got rid of several players to clear room for their hypothetical big three, including Ben Wallace, Chauncey Billups, and Corey Maggette. The Spurs' braintrust was shook. Peter Holt told the Orlando Sentinel, "To say we're not down here on pins and needles would be a lie." Gregg Popovich said he had started to make his peace with a departure:
"It was a nerve-wrecking time. It was hell. You get close to a player and you don't want to see him leave. I never let myself believe he was going to stay. I was just getting myself prepared, for sanity reasons. It's no fun."
Once David Robinson heard that Duncan was seriously considering leaving, he apparently flew back early from his vacation to Hawaii and helped convince him to stay. Duncan himself admitted later that he was "very close" to leaving, but that Robinson swooping in helped persuade him to stay. Ironically, the full-scale marketing blitz that Orlando used to attract Hill and McGrady overwhelmed Duncan and helped convince him to pick a situation where he felt more comfortable. Of all strategies to try with the cargo shorts thought leader, selling fame and glitz probably wasn't the smartest play.
Duncan stayed with the Spurs, of course, and the team managed to wait out the Lakers' nascent dynasty and win four more titles over the next decade. Had Duncan left for Orlando, though? Maybe Grant Hill stays healthy, maybe Doc Rivers never leaves and assembles the super-Celtics, maybe Tracy McGrady wins multiple titles instead of retiring as a notable first-round loser, maybe San Antonio falls into basketball oblivion, maybe Kevin Garnett wins a title in Minnesota. The what-ifs are tantalizing and impossible to tease out, but Duncan departing for Orlando would almost certainly shake up the NBA as much as LeBron leaving for Miami a decade later did.
Who knows. What is certain is that Duncan pranked the shit out of Gregg Popovich when telling him he was going to stay:
"Well coach, you know, there's no beach in San Antonio," Duncan began, trying to break the news gently.

You know when a woman gets a breakup call from George Clooney? This felt like one. Until Popovich realized he was being punked.

"There's no beach in Orlando, either," Popovich growled. "There's a cultural desert there. What do you want to go there for?"

Duncan laughed and gave the coach the good news: He was re-signing with San Antonio. The other day, Popovich smiled at the memory of getting pump-faked by his center, and said: "He got me. He got me good."