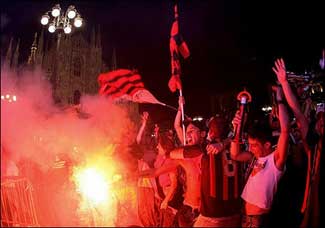 David Hirshey writes regularly about soccer for Deadspin.
Man, that was some Champions League final between Liverpool and Milan. At one point in the second half I thought my heart was going to explode from all the adrenalin rushes, and I told the bartender to have a Med-i-vac unit standing by in case it went to overtime. "I don't think that will be necessary, sir, if you just stop drinking beer for five minutes," he said calmly.
But how could I? My nerves were so jangled, and I didn't even care who won. Unlike my friend Roger, a born and bred Scouser who was banging on about Liverpool's passion and guts and what a colossus Gerrard is. "What a great advertisement for soccer this is," he bellowed. "All those Americans who still think it's a boring game for foreigners can blow me."
Did I mention that we were watching the final from 2005?
(more after the jump)
In its infinite wisdom — or because there wasn't another replay of the 1997 World's Strongest Man Competition racked up — ESPN had the good sense to prise it out of its time capsule and show it right after yesterday's relatively boring-ass final between the same two teams. A half hour after Milan had won its 7th European Cup, Roger and his fellow Liverpudlians at the bar were whinging about yesterday's great injustice — it was a handball on Inzaghi ... Milan must have paid the referee to shave a minute off stoppage time ... the dirty cheaters shouldn't even be in the Cup, they should be playing in Serie B ... when the game known as The Miracle of Istanbul came on. "We needed this for the healing process," said Roger as he ordered another double whiskey.
Nothing can ever wipe out the humiliation that Milan suffered two years ago when Liverpool clawed its way back from a 3-0 halftime deficit to score three times in the span of six insane minutes before winning on penalties (at the risk of sounding like Simmons here, that kind of comeback ranked right up there with the Red Sox overcoming the Yankees in 2004, maybe even higher). But yesterday's 2-1 victory will ease the pain. even if, like their scandal-scarred season that saw them docked eight points for match-fixing, Milan's victory was tainted. Their first goal was scored not with a foot or a head but with a limb that only goalkeepers and Maradona are allowed to use: an arm. You can argue that Pirlo's free kick was hit with such venom that Inzaghi didn't have time to get out of the way, and that's why it hit his lower left shoulder. But you could also make the case that the crafty striker, who Alex Ferguson once remarked "was born in the offside position" purposely ran into the path of the ball hoping for a deflection off some part of his body.
That the Arm of God came at the stroke of halftime made it all the more sickening for the Scouser faithful. On the bright side, they only had one goal to overcome, not three. And the way Liverpool were shutting down Milan's vaunted midfield tandem of Kaka and Seedorf and not allowing them room to operate, you had to like their chances. Even when the great Brazilian conjured the one moment of breathtaking skill in the game, pirouetting around Riise in midfield, the move led to nothing but oohs and ahs.
But Liverpool's master tactician Benitez, who seems more comfortable in European competition than in the Premiership, couldn't overcome his caution in attack, and it proved costly. As is their wont, Liverpool kept pumping balls into the box but the problem is, with Crouch, the Scouser Yao Ming, on the bench, the Reds don't have a genuine target man to exploit them. Kuyt has an impressive work rate, but he is not forceful enough to play on his own upfront.
There was hope that Pennant's pace on the flanks would be too much for Milan's 38-year-old captain Maldini to cope with. Yet the few times that he scorched the beautifully coiffed Italian legend, Pennant was unable to deliver the killer pass to Kuyt or Gerrard in the box. Gerrard did have one mouthwatering chance, though, when, in the 63rd minute, he dispossessed Milan's snarling enforcer Gattuso and skinned the last defender Nesta to put himself one-v-one with Milan's bumbling keeper Dida. In that situation two years ago, Dida would be picking the ball out of the net, but yesterday Gerrard overthought his shot and fired lamely right at the Brazilian.
Liverpool continued to rampage forward, buoyed by the addition of Crouch in the 77th minute, but they also left themselves vulnerable to the quick counterattack. Still, it took an eye-of-needle pass from Kaka to the surging Inzaghi to produce the goal from which Liverpool could not come back. Though they stirred fleeting memories of Istanbul in the 88th minute when Kuyt's header made it 2-1, there would be no miracle this time in Athens.
As Roger slumped over the bar, he spoke for all the Scousers who felt they deserved better.
"What do Liverpool and Olivia Newton-John have in common?" he asked. "They both got fucked in Greece."