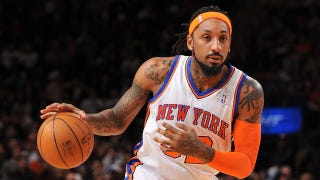 After choking one of his teammates last Friday, Renaldo Balkman has been banned from the Philippine Basketball Association by commissioner Chito Salud.
Salud said he took into consideration Balkman's past record as a player, which included a head-butting incident during a FIBA-Americas game between his Puerto Rico side and Venezuela.

"I also took into consideration Balkman's evident disregard for local and the host country's sensibilities highlighted by his choking act on-court in full public view of his own team mate who was trying to pacify him," Salud said.

"I do encourage passion for the game but I also want to firmly instill a culture of accountability among our players. If one does something that violates the rules and the norms of sportsmanship and decent behavior, he will be made accountable."
Balkman has responded to Salud's decision on Twitter, and he's giving us all a big sad-face.
Also, Balkman's Twitter bio still claims that he is a member of the New York Knicks. So, double sad-face.
[NYT]