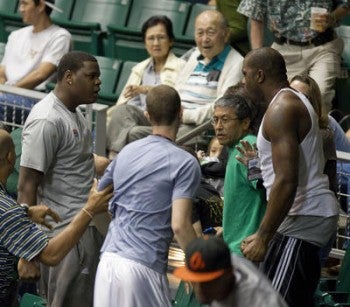 Because no one reads the newspaper, and SportsCenter's anchors are too perky for this early in the morning, Deadspin combs the best of the broadsheets and internets to bring you everything you need to know to start your day.
• Three days after being suspended for an altercation in practice, Mississippi State's Renardo Sidney got into a fistfight with teammate Elgin Bailey while watching another game at the Diamond Head Classic. And to think, many schools passed on signing Sidney.

•Okay, that was unexpected: the new-look Magic completely routed the NBA-best Spurs, with each of the new acquisitions putting up double figures. Yes, even Hedo, who learned his lesson to stay out of the paint.
•Apparently the Penguins and Capitals had a hell of a game last night. I wouldn't know, because they didn't even bother to put it on Versus, and I'm not paying for NHL Center Ice. Sure I could catch up next week on 24/7, but I'm not paying for HBO either.
•LeBron James basically just said the NBA would be better off if they got rid of the Nets and the T-Wolves. That's one Decision we can all get behind!
•Drew argued that a game — any crappy old game — is better than nothing on Saturdays. To that, I reply: last night's Steelers/Panthers turd.
•••••
Good morning. We'll have some assorted goodies for you today.