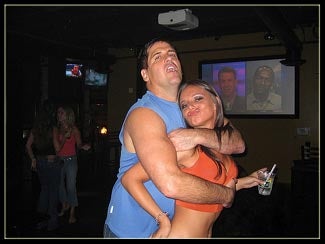 We're as stunned as you, folks, but somehow, even though he's clearly getting the worst ratings from the "judges," Mavericks owner Mark Cuban is corralling some sort of fanbase to keep him on the show.
"All I can do is say thank you, thank you, thank you to everybody who got behind us," Cuban told co-host Samantha Harris after he and Johnson found out they were safe on Tuesday's results show. "It's motivating. We're the little engine that can. We will work harder, harder, harder for everybody who got behind us."
We loved, by the way, that "SportsCenter" interviewed Cuban on the set of the show about Kobe Bryant. He was still dressed up in his dancing garb, and his partner stood there, patiently, as if she had the slightest idea what he was talking about. Boxer Floyd Mayweather was eliminated, which means maybe now he gets to fight Evander Holyfield.
Fans Let Cuban Live To Dance Another Week [Ft. Worth Star Telegram]