Britt McHenry, who should really update her handwringing-about-rap shtick since N.W.A isn't what the kids listen to anymore, was named this weekend in a New York Times report as one of the celebrities, "celebrities," and media members who have purchased phony Twitter followers through a company called Devumi. McHenry's reaction was to ham-fistedly challenge the liberal media to a fight. She knows the crowd came to hear her one hit single:
The best sports movies according to Toheeb Jimoh
G/O Media may get a commission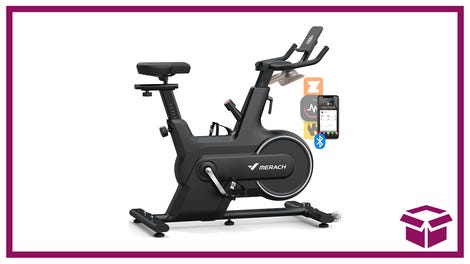 14% off + Coupon
Merach Indoor Cycling Bike
If that doesn't sound like a full denial—and instead like McHenry clarifying that it was the 2015 video of her berating a tow truck employee that made her famous—that's because it isn't. McHenry showed up on Clay Travis's radio show this morning to talk in depth about her Twitter following, and didn't expose or "expsose" the liberal media at all. (Her interview starts at about 1:38:00 of the "Day 1" episode.) She said that while she was doing damage control after that video, she enlisted her friends to rehab her Twitter presence, and that strategy included paying to promote tweets:
I actually had some friends—because at that time, I'm not even kidding, and I may laugh because it's so absurd, I had TV crews camped outside of my apartment building, you know, the TMZ types and whatnot—so I was barely leaving my apartment for a week. So I had some really close friends that I've known forever, going back to when I was a kid in Satellite Beach, Florida. I was like, "Here's the keys. Do whatever you gotta do. Just help me out." So, it was really more other people in my close inner circle and just trying to say, "Okay, instead of having all these tweets about the tow truck thing, maybe there's a way to promote this tweet about the next assignment I'm gonna do," which was like the Islanders. So, you know, that was pretty much the extent of it. There's a lot of different reasons. I saw famous people, Clay Aiken and such, listing why they would do it, to sort of build their brand. And you know, Clay, that happens a lot in this industry by the way. I'm sure you're familiar with that. There's a lot of different people we know. So it kind of caught me off guard.
When asked by Travis about how much she'd spent on rehabbing her image on Twitter, McHenry said she doesn't remember, but maybe it was "a couple hundred" dollars. But, she said, there are probably people online who spend more money. Uh huh.