It's that time of year, when we assign nebulous indicators of quality to the impossibly difficult to evaluate drafting of NFL talent. We'll look at the some of the best and brightest draft grades and let you know how each organization did in grading the 2012 NFL Draft. We realize that grading the grading of the draft this early can be premature since it can take a long time to realize potential, but we don't care. We're doing it anyway.
Strengths:Depth of coverage. I love the way Pete Prisco and Jason Chilton dive right in and tackle each and every pick, all the way down to Mr. Irrelevant. Teamwork. These guys are team players and it shows. Covering the entire draft is tough slogging but these two know each others' strengths and play well off one another. Pedigree. You know what you are getting with CBS and these two carry the torch well.
Weaknesses: Lack of continuity. They play well off one another, but it's hard to have a common evaluation with different individuals doing the evaluating. Is a Prisco "A" the same as a Chilton "A?" I don't like the fluidity, or lack thereof, between authors. Are these guys just workout warriors? I guess we'll find out soon.
Grade: B+
Strengths: Excellent recognition. The grades are listed in descending order so you get a real feel for how teams did in a tangible way. Key acquisitions are highlighted for ease of consumption.
G/O Media may get a commission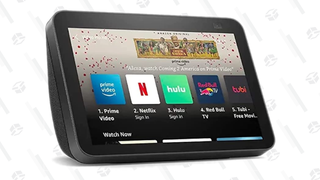 Weaknesses: All the tools are there, but his heart is just not in it. This guy takes rounds off and runs in idle sometimes. The Key acquisitions feature is nice, but not comprehensive. The analysis is unremarkable and shows a lack of commitment. Needs to focus on technique: the grouping of teams into "playoff teams," "playoff contenders" etc. is confusing and needs adjustment before he's ready for prime time. Can the right editor turn it around? I guess we'll find out soon.
Grade: B+
Strengths: Student of the game—all grades are in alphabetical order by team city. It's a perfect pick up for the fan looking for only his team. Quick off the line, direct and a pretty good motor. Not everyone can be Prisco and CBS, but this is great value at the right spot.
Weaknesses: Alphabetizing is nice, but I'm not in love with it. This guy does have a good motor, but sometimes its wasted on fluff. The paragraph per team summary is good for the short term fix, but again shows a lack of commitment. Could it be a portent of things to come? I guess we'll find out soon.
Grade: B+
Strengths: Lots to love on tape here. Quick, decisive opinions. All members are focused and alert to the task at hand and execute efficiently. Team grades are broken up into divisions allowing for ease of digestion. Very rarely do these guys break contain.
Weaknesses: The tape is what it is. It can be rambling and gets long winded quickly. Some dead air periods and stepping on one another's commentary indicate a failure to maintain good gap control. Overall the product is disappointing because of the connection to the League. The NFL should have the best draft grading because it has the most access. Is this a failure on the production side, or the talent side? I guess we'll find out soon.
Grade: B+
Strengths: When you talk about a guy like a Mel Kiper you talk about quality. He's the face of draft coverage. Student of the game. This guy studies the tape, and then studies it again. Incredible dedication to, and pride in, his craft. He's got a great motor and never takes a pick off. Grades are listed in order of best to worst. A team's entire draft is listed, discussed and evaluated. Grades given based on what needs were addressed, what value was obtained and an overall score. He's the class of the draft grading class.
Weaknesses: Tunnel vision. When evaluating a Mel Kiper you see the huge upside, but there are smaller concerns. He often over-persues and leaves the reader lost in a sea of analysis. He's being challenged by the young bucks in the class like a Todd McShay and you wonder how that affects him. Can he maximize his own value? Can he handle the stress? I guess we'll find out soon.
Grade: B+