Holiday parties are a wonderful time of the year where you can get drunk with your coworkers, contract gonorrhea from them, or in Chip Kelly's case, hurry on your pending unemployment. CBS' Jason La Canfora has a report from the aftermath of Kelly's firing by the Philadelphia Eagles, and it's pretty funny.
One of the last straws for Kelly was his refusal to attend the Eagles' holiday party if it were held on its traditional night. Owner Jeffrey Lurie did not like this:
For instance, Lurie has always taken considerable pride in the team's holiday party, going to great expense to throw the large gathering, with it becoming something of a prized tradition with him. According to numerous sources with knowledge of the situation, Kelly basically refused to attend it this year on its normal Monday night, and ultimately Lurie had to move it to a Friday afternoon onsite to facilitate Kelly's schedule. Kelly argued Monday night would disrupt the coach's planning for the week — a fair enough claim — but Lurie apologized to the organization for the haphazard way the party was conducted this year and told others it would not happen in that fashion ever again.
Don't ruin Christmas, Chip!
In and of itself, it's not a big deal, but given the timing, with the team falling out of the playoffs around Christmas and with the atmosphere in the organization growing more toxic, it exemplified the growing divide between the way Kelly operated and what Lurie wanted his organization to be. "That's just part of a long list of reasons why Jeffrey made this move," said one source close to the situation, "but the whole thing with the Christmas party just epitomizes the split from what Jeffrey wants the Eagles to be, and what he felt like they were becoming."
G/O Media may get a commission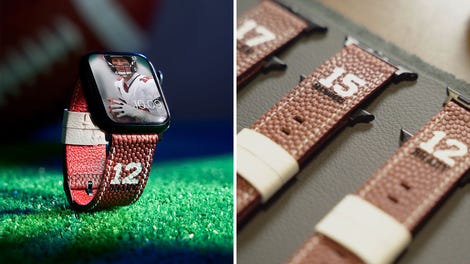 Official NFL PRODUCTS
Official NFL Apple Watch Bands
Anyway, Chip looks like he's still a hot candidate for a new job, with the Browns, Titans, 49ers, and Dolphins all expected to ask about him. Let's hope they have more closely aligned ideas about the holidays.
Photo via Getty