Philadelphia Inquirer reporter Jeff McLane was kicked out of the Eagles' press box today for "violating the fan code of conduct" when he got into a disagreement with a team staffer, according to Philadelphia Daily News reporter Les Bowen.
G/O Media may get a commission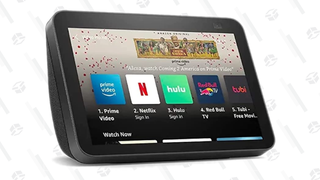 We've reached out to the Eagles' director of public relations for comment but have not yet received a response.
McLane had been live-tweeting the game, but he stopped about 10 minutes before Bowen's first mention of the incident. He resumed tweeting after the game but has not yet mentioned his ejection. Several other reporters in the box have discussed McLane's ejection on Twitter, including one of his Inquirer colleagues, though no one has narrated it so thoroughly as Bowen.
The fan code of conduct is, as the name suggests, for fans. It prohibits fighting, "foul or disruptive language," and sitting in a location other than the seat specified on a ticket, among other things. There is no mention of expectations for press box behavior.
Anne Gordon, the Eagles' senior vice president of marketing, media and communications, was involved in the decision to eject McLane:
Gordon, pictured in the white sweater above, is a former Inquirer colleague of McLane's. She served as managing editor of the paper from 2002 to 2007, and McLane has been writing there since at least 2004.