ESPN and DraftKings have ended their exclusive advertising agreement, according to a Yahoo report. Daniel Roberts reports that it was likely DraftKings—who are facing dozens of class action lawsuits, as well as engaged in a major legal battle with the State of New York—who asked to end the agreement. ESPN declined to comment on the report.
In some respects, ESPN should consider themselves lucky. Last spring it was widely reported that Disney was investing $250 million in DraftKings at a $900 million valuation. In return for the investment, DraftKings would spend over $500 million in ads on ESPN. But for whatever reason the terms of the deal changed, and Disney didn't invest any money in DraftKings. Instead they agreed to a deal where DraftKings would have the "exclusive rights to advertise fantasy sports on Disney's ESPN properties starting in 2016."
Fox, who invested $160 million in DraftKings around the same time ESPN declined to, marked down the value of that investment to $65 million in a Securities and Exchange Commission filing Monday, a loss of 60 percent.
The ending of DraftKings and ESPN's agreement signals much worse news for the daily fantasy operator than the four letter network. DraftKings—which sought to delay some ad payments late last year—is likely freeing up all of the cash they can to pay millions of dollars of legal fees. You don't need to know much about business to understand that diverting large sums of money from marketing to legal is worrisome. But while ESPN loses some ad commitments from one of its ten biggest advertisers, they'll be able to resell most of that ad inventory.
[Yahoo]
Photo via AP; Badge via Jim Cooke
G/O Media may get a commission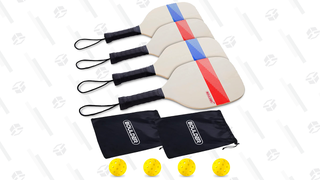 It's Pickleball
Pickleball Sets
---
E-mail: kevin.draper@deadspin.com | PGP key + fingerprint | DM: @kevinmdraper