Fox Sports has published a story about the handling of the sexual assault allegations against Jameis Winston; we'll surely be unpacking it all weekend. Citing thousands of pages of documents obtained through a series of public records requests, reporter Kevin Vaughan declares that both FSU administrators and Tallahassee police "took steps to both hide, and then hinder" the investigation.
Jokic? Embiid? The NBA MVP is obvious... right? | Keep it a Buck(et)
The key point is the timeline of when Tallahassee PD, which had let the case go dormant for nine months, informed the state prosecutor's office about the Winston investigation. The documents obtained by Fox Sports reveal that nearly everyone else had the Winston reports before they were given to State Attorney Willie Meggs, actively weakening Meggs's chances of bringing charges.
The story implies that TPD would have continued to sit on the police reports had not a reporter at the Tampa Bay Times gotten wind of them.
[O]n Nov. 8, 2013, a reporter for the Tampa Bay Times contacted Tallahassee police and requested copies of reports of the alleged rape involving Winston.

The first move by Tallahassee police? A records clerk, acting at the behest of the department's spokesman, forwarded the reports to David Perry, chief of the Florida State University Police Department. That occurred at 3:41 p.m., according to an e-mail obtained by FOX Sports.

[...]

At 8:53 that night, the campus police chief forwarded the e-mail chain to Monk Bonasorte, senior associate athletic director for internal operations. That e-mail included the attachments that contained the police reports.

Bonasorte, a highly decorated defensive back for the Seminoles from 1977 to 1980, is the athletics administrator who has gotten involved when several when Florida State athletes have been in trouble.
G/O Media may get a commission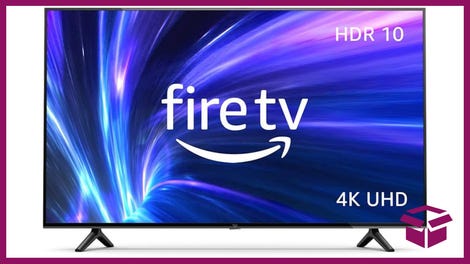 42% Off
Amazon Fire TV 50" 4K Smart TV
FSU officials and campus police first attempted to learn more about the reporter seeking the documents.
In an e-mail to Perry obtained by FOX Sports, Bonasorte asked, "Do we no (sic) if its sports dept?" He was apparently trying to determine whether the reporter was a sportswriter.

[...]

That morning, at 7:59 a.m., the Tallahassee records clerk sent an e-mail to Perry identifying the reporter who requested the documents, and 32 minutes later Perry forwarded the e-mail to Bonasorte with the notation, "Here you go …"

At 10:55 a.m., Elliott Finebloom, assistant athletic director and sports information director, sent an e-mail to Bonasorte detailing the reporters' background and resume – including papers where he had worked.

That was followed a short time later by a back and forth about whether the report had been released.

Told it had not, Bonasorte responded to Perry: "You will let me know when it gets released? I will talk to Jimbo, if released or not ... Is Tpd legal trying to block it?"
By Nov. 12, four full days after the Tampa Bay Times reporter had requested information, a TMZ reporter came sniffing around. He received a dismissive reply from Maj. Jim Russell of the FSU police:
Russell responded 15 minutes later: "I can advise you that Jameis Winston is not under any investigation by the FSUPD, nor has he been questioned regarding any criminal case by the FSUPD. I just called the on-duty shift to make sure nothing was breaking right now and they report nothing regarding Winston going on. Thank you for contacting me regarding this rumor – I am glad I can dispel that one."

Russell's e-mail was accurate – at least, technically. But Winston, at that point, was the subject of an investigation by the Tallahassee Police Department, not the university police department.

A few minutes later, Russell sent an e-mail to FSU Police Chief Perry and Jeanette M. DeDiemar, associate vice president for integrated marketing and communications: "Wow – crazy! Rumor control!"
It was not until the next day, Nov. 13, that Willie Meggs was notified of the allegations against Jameis Winston. But he learned fairly quickly that Winston's attorney, Tim Jansen, had received the police reports days earlier.
On Nov. 12, Jansen called Patricia Carroll, an attorney and family friend who was advising the woman who accused Winston of rape, and left a message. They would not talk until the next day, but Carroll suspected from the message that Jansen already had a copy of the police report, and she expressed that fear in a call to a Tallahassee police sergeant that day.

[...]

[On Nov. 13] Jansen acknowledged to Carroll that he had the police reports. According to her, Jansen said he got them from "a guy" he knew when she demanded to know how it was that he had the reports of an open criminal investigation.
Meggs says this delay was crucial because it stopped him from interviewing potential witnesses who had not been prepared. "It does handicap a case," he said.
On Nov. 13, before Meggs could talk to them, Jansen met with Winston's teammates Chris Casher and Ronald Darby, who had witnessed some of the sexual encounter between Winston and the woman. Jansen hired a notary who recorded identical statements by Casher and Darby swearing that the encounter was consensual.
"I became pretty much of the belief that somebody had gotten his reports to his defense attorney, because he had already talked to our witnesses," Meggs told FOX Sports. "If he didn't know about it, how does he know to interview them and get affidavits?"

Meggs said he wasn't bothered that Tallahassee police shared the report with campus police – but that he remains mystified that campus police then shared it with other administrators at the school, a move he said was wrong.

[...]

It has been long suspected that someone slipped Jansen the police report before turning it over to Meggs, but until now it had never been clear who could have acted as the conduit from the Tallahassee Police Department to the attorney.

Meggs told FOX Sports that in hindsight he has wondered whether he should have sought a search warrant for Jansen's office to retrieve the reports and seek answers about who got them. However, he said he believes strongly that someone in the athletic department at Florida State turned them over to Winston's lawyer.
TMZ published the first report of the allegations against Winston that night, hours after Meggs had first learned of their existence.
The next day, Tallahassee police attempted to interview Casher and Darby, neither of whom they had ever sought out despite the woman's statements referring to a freshman player named "Chris." (There were only two players named Chris on the team, and Casher was Winston's roommate.)
According to the police report, Bonasorte—the assistant A.D.—offered to act as legal representation for the players.
"Bonasorte then stated he believed Jansen had already arranged legal representation for Casher and Darby," Angulo wrote. "While we were present, Bonasorte made phone contact with who he said was attorney Jansen. Following the phone call, Bonasorte informed us that Darby had obtained an attorney, but that Casher had not. Bonasorte had staff summon Casher to the Moore Athletic Center. Bonasorte then stated he would be Casher's representative. Bonasorte is not an attorney so we explained that, in order to protect the integrity of the case, he would not be allowed to be present."
The day after that, Florida State administrators and campus police held a war council to discuss the case and how it could best be spun.
Nov. 15, 2013, Jeanette M. DeDiemar, associate vice president for integrated marketing and communications, summoned a number of people to a meeting to discuss the case.

Among those asked to be there were FSU campus police chief Perry and deputy chief Russell; Mary Coburn, the vice president for student affairs, and her husband, David Coburn, a college roommate of then-FSU President Eric Barron and a principal in the legislative consulting firm Capital Analytics; Carolyn Egan, general counsel to the university; Bonasorte; and media and communications specialists from both the athletic department and the administration.

The agenda was simple: "Get around the table to 1) be brought up to date regarding case and 2) review media relations, social media and communications needs for the next 72 hours."
You'll want to go read the entire Fox Sports report.
No one from Florida State, campus police, or Tallahassee Police would speak with Fox Sports. Instead, earlier today the university released an open letter containing its version of the timeline of the Winston case. Nothing in it contradicts anything in this Fox Sports report.