When frequently injured Philadelphia 76ers center Joel Embiid signed a five-year, $146.5 million maximum contract extension the day before yesterday, ESPN's Zach Lowe quoted a source calling it "perhaps the most complex" contract in NBA history. Now some of that complexity is coming to light, and the gist of it is, the 76ers think there's a real risk Embiid's pre-existing foot and back problems could torpedo his career.
Here's how ESPN's Adrian Wojnarowski and Bobby Marks have it, in their report on the details of the contract:
Across each of the final four seasons of the extension, ending with the 2022-23 season, the 76ers could waive Embiid for a financial benefit if he's lost because of a contractually agreed-upon injury that causes him to miss 25 or more regular-season games and if he plays fewer than 1,650 minutes, league sources said.

Specific injuries are laid out in the contract and include only past problem areas with Embiid's feet and back, sources said. Embiid has to miss 25 or more regular-season games because of injuries to those areas, and play fewer than 1,650 minutes, for Philadelphia to have the option of releasing him for cost savings.
As their article explains, if Embiid suffers a serious injury to another body part—for seasonal fun, let's imagine that he tears his pectoral muscle fighting off the risen dead—it will not count as the kind of injury that will allow the Sixers to cancel out part of his deal by waiving him. What's interesting is, something like that already happened (minus the risen dead), when Embiid missed the last 37 games of this past season with a meniscus injury—but the new contract apparently includes no protections against knee problems. If that's because the Sixers do not consider the knee injury a legitimate cause for long-term concern, then by implication they do see the foot and back issues that way.
Woj previously reported that the contract also gives Embiid the opportunity to trigger an additional $30 million in compensation if he makes first-team All NBA or wins the MVP award this coming season. This gives a pretty fair idea of what the Sixers see as the plausible best-case scenario for Embiid: He could be the sport's most dominant player as a 23-year-old. The injury clauses show what else they consider plausible: His troublesome back and feet could prevent him from having a real NBA career.
G/O Media may get a commission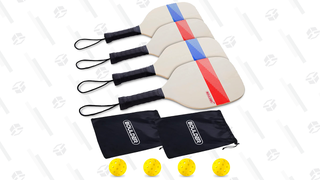 It's Pickleball
Pickleball Sets
Obviously, whatever the contract says, a player of Embiid's truly mind-boggling talent and promise would have to do a lot worse than miss 26 games or play fewer than 1,650 minutes to get the Sixers to waive him outright. After all, he has logged a mere 786 minutes in his entire career to this point, appearing in only 31 of a possible 246 games in the three years since the team drafted him, and they've already seen enough to make him their franchise cornerstone. His feet and back would have to render him pretty much completely useless to get to the point of waiving him; even at 56 games a year, he'd likely be a sexy trade chip long before they'd consider straight-up dumping him.
What's noteworthy, then, is just that the Sixers apparently consider the darker scenario plausible enough to write some very specific protection against it into the contract. When you add in the context of the team apparently not protecting itself against knee injuries in a player who has already missed nearly half a season—and the entire ensuing offseason, and most of the following preseason—recovering from a knee injury, it looks more than a little like the Sixers expect Embiid's feet and back to remain troublesome issues, for the next few years anyway. That's at least a little bit worrisome, no matter how positive a spin the organization tries to put on things.
Hey, by the way, after a much longer than expected recovery from that knee injury, Embiid is expected to make his preseason debut tonight, in Brooklyn. Cross your fingers for the big guy.
[ESPN]