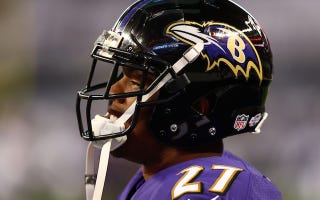 According to ESPN's Adam Schefter, Ray Rice will be basing his appeal of his indefinite suspension by the NFL on the claim that the video showing him knocking out his then-fianceé, Janay Palmer, in a hotel elevator was edited by TMZ.
Here's Schefter:
Legal sources told Schefter that the TMZ tape of Rice hitting his then-fiancee was a cleaned-up, whittled down and condensed version of the events that took place in the Atlantic City casino elevator.
TMZ admitted that the video was had been edited so as to smooth out the choppy frame rate when they published it, and that alone doesn't seem like much to base an appeal on. So what matters here is what Rice's legal team means when it says "whittled down and condensed." He's either arguing his appeal on a flimsy technicality, or claiming that there's another version of the tape that shows a different, somehow exculpatory version of events.
[ESPN]