A gunman held up Ryan Lochte at a party the U.S. swimmer attended last night, Fox Sports Australia and The Mirror are reporting. The IOC denies the report.
G/O Media may get a commission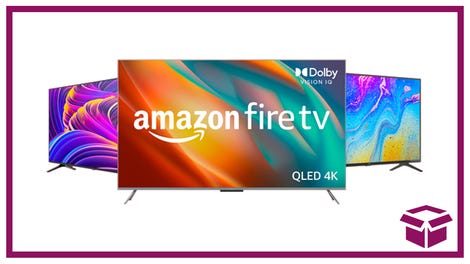 Ooh. stunning.
New Amazon Fire TVs
We're harboring some skepticism about this story, given its sources, and will update as more reliable ones come in.
Lochte earned gold earlier in the Olympics as a member of the 4x200m freestyle relay; it brought his medal count up to 12, good for second all-time among male swimmers.
Update (10:39 a.m.): USA Today spoke with Lochte's mother who confirmed the holdup:
Early Sunday morning, Ryan Lochte was with at least one U.S. teammate in a cab heading to meet up with Brazilian swimmer Thiago Pereira when the cab stopped to get gas, Ileana Lochte said.

She said the group was held up and confronted by people who had guns and knives.

Ileana Lochte said her son had his wallet taken but that was it. He notified her via text message afterward.
Update (11:38 a.m.): The Washington Post has details:
Thiago Pereira and his wife Gabriela Pauletti were in Club France, the French house in Brazil, and they were celebrating the birthday of a friend in common," said Perez, Pereira's spokesman. "Lochte was also in the same place, commemorating the same birthday. Ryan and Thiago are friends. Thiago and his wife left earlier, they left alone, the two of them. Thiago and his wife went back to their hotel. Then Thiago, on finding out what happened, called Ryan. Ryan is well, and Thiago said that the robbery, according to Ryan, was in the taxi. The taxi was robbed.
Update (12:45 p.m.):
Update (1:12 p.m.): A USOC statement:
According to four members of the U.S. Olympic Swimming Team (Gunnar Bentz, Jack Conger, Jimmy Feigen and Ryan Lochte), they left France House early Sunday morning in a taxi headed for the Olympic Village. Their taxi was stopped by individuals posing as armed police officers who demanded the athletes' money and other personal belongings. All four athletes are safe and cooperating with authorities.
Update (1:23 p.m.): Lochte told NBC the robbers put a gun to his head:
Update (1:34 p.m.): NBC now has a full story:
"And then the guy pulled out his gun, he cocked it, put it to my forehead and he said, "Get down," and I put my hands up, I was like 'whatever.'
"Whatever." NBC's exclusive interview with Lochte won't air until tomorrow, because even news gets tape-delayed on the Peacock Network.