[Update, 8/31 5:45 p.m.: The managing editor of the Review-Journal has responded to the allegations in this post. Read his response below.]
Plutocratic bologna Sheldon Adelson attempted to keep his purchase of the Las Vegas Review-Journal a secret. It was less than two months before it was reported that he had begun axing stories investigating the true cost of a publicly financed stadium to lure the Raiders to Vegas (a charge later denied by the newspaper's interim editor). Adelson, you see, is the single largest investor in the recently unveiled stadium project.

Well, Adelson's the second largest investor. The largest would be the taxpayers. The deal on the table is $750 million in public money, an American record—or no team. This stadium is Adelson's baby through-and-through, and it appears he's wielding his reporters to gather intel. Or as a cudgel.
Local journalist Jon Ralston has published a Review-Journal internal memo instructing reporters to query all political candidates about their stance on public financing for the Raiders' stadium.
This astonishing request was made in a memo two weeks ago from Assistant City Editor Don Ham:

All of you who are handling state Senate, state Assembly and Clark County Commission races for the tab should make sure to ask this very timely question of the candidates. This question is NOT going to be added to the question asked of candidates for the online election package, though. Should public money, in the form of room taxes, be used to build a proposed stadium in Las Vegas. Why or why not? Any questions, see me. Thanks.
G/O Media may get a commission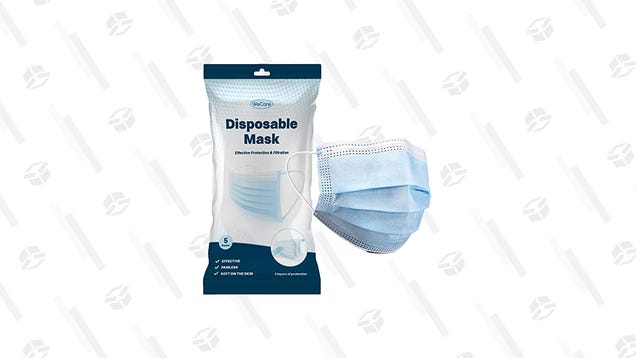 WeCare Disposable Masks With Elastic Earloops- 5 Pack
That's definitely weird. Here's Ralston:
Notice the capitalization of the word NOT. What in the world does that mean? Why ask a question of candidates that will not be used in the paper? Are they getting a head count for Adelson? Reminding candidates the newspaper could be used as a bludgeon?
Adelson is one of the nation's most politically active billionaires, and is donating to numerous local, state, and national races. His power comes from his wealth, and his wealth will increase with an NFL stadium paid for by taxpayers, and it's undoubtedly valuable for him to know just which candidates will be on his side, and which ones could use a little pressure.
All this for a $1.9 billion stadium that most Las Vegas residents don't want to spend public money on. Luckily for Adelson, they won't get to vote on it.
Update: From Glenn Cook, managing editor of the Review-Journal:
Your post of Aug. 26 ("Report: Sheldon Adelson Up To Some Shady Shit On Las Vegas Raiders Stadium") cannot even loosely be described as journalism. You presented the wild speculation and opinion of a single biased blogger as fact. You made no attempt to corroborate the opinion of that blogger. And you made no attempt to contact Las Vegas Review-Journal management to get an explanation and context of what was written in a leaked email message before publishing content that smears an entire news organization.

The conclusions in Jon Ralston's blog post from August 26, 2016 ("RJ editor to reporters: Ask candidates about public stadium funding but not for the newspaper"), presented as fact, have no basis in reality. Ralston, the author of the blog post upon which your content was based, deliberately ignored language in the email to support a conspiracy theory that, like your own post, had no corroboration.

It goes without saying: We completely deny any allegation that our reporters are collecting information for our owner and not for readers. We completely deny any allegation that we will not publish what our reporters learn about the positions of legislative and County Commission candidates on public funding for a domed football stadium. Such allegations are not only completely false and completely unfounded, but completely stupid. In fact, we already have talked to lawmakers about the prospect of a stadium special session and reported the position of at least one lawmaker who opposes the use of tax dollars for a stadium:

http://www.reviewjournal.com/business/stadi…

For reference, here's Don Ham's Aug. 11 email, which formed the basis of Ralston's rant:

"All of you who are handling state Senate, state Assembly and Clark County Commission races for the tab should make sure to ask this very timely question of the candidates.

This question is NOT going to be added to the question asked of candidates for the online election package, though.

Should public money, in the form of room taxes, be used to build a proposed stadium in Las Vegas. Why or why not?

Any questions, see me.

Thanks."

Ham's reference in the first paragraph to "the tab" is to our print tabloid general election voter guide, which will be included in our Sunday, Oct. 23 edition and posted online. For these voter guides, which we have produced for every statewide primary and general election going back decades, reporters interview candidates for a specific office (for example, Assembly District 13) about campaign issues and their backgrounds. The purpose of the section is to provide voters with information that helps them make decisions about whom to support.

The fact that Ham brought up "the tab" indicates to reporters that the question he wants asked is for publication. Nowhere in this email does it say we won't publish what they report, or that we will keep secret what they report, or that reporters are to provide their findings directly to editors but not include the information in the stories they file.

When Ham wrote "This question is NOT going to be added to the question asked of candidates for the online election package, though." he was referring to our online Voter Guide, which is a completely separate product from "the tab." The "online election package" Ham was referring to can be found through our home page navigation bar at reviewjournal.com by hovering over the "Election 2016" bar and clicking on "Voter Guide." The direct URL is:

http://www.reviewjournal.com/voter-guide-20…

The content under this section is completely different from "the tab" because it is provided by the candidates themselves, not produced by our reporters. For an example, scroll down to Assembly District 13 and click on the link for Paul Anderson. You'll see a 60-second video that we allowed each candidate to film, some personal and professional information, a description of the elected office they're running for, a map of their district, key endorsements, and their responses to three policy/issue questions selected by editors in early spring. In legislative races, we decided to ask candidates about the recreational marijuana initiative, the background check initiative, and about K-12 education. In County Commission races, the questions are "What is the biggest challenge facing Clark County?"; "If elected, what would you do to address that challenge?"; and "The 2017 Legislature is expected to consider one or more proposals to allow municipalities, including counties, to increase property taxes to bring them closer to levels they were at before the Great Recession. Is this a good idea? Why or why not?"

When Ham wrote "This question is NOT going to be added to the question asked of candidates for the online election package, though" he was referring to these three questions in our finishedonline Voter Guide. A lot of work went into creating and coding these pages, then getting digital questionnaires to candidates, then uploading all their responses to these pages. It involved newsroom assistants, web developers, reporters and our data editor. We consider these pages a finished product. These candidate pages have been on our site, unchanged, since well before the June primary election. We decided against adding the stadium question to the pot, background check and K-12 questions asked of legislative candidates, as well as the questions asked of commission candidates, because we will report candidate answers on the stadium issue in our print voter guide, which also will appear online. Aka "the tab."

We expect you to update your blog post with our response.

The fact that you have in your lead paragraph an assertion from a previous post that I showed to be completely false leaves me with great doubt that you'll be fair.

FYI, in case you haven't seen it, the San Jose Mercury-News ripped off your post without attribution. You might want to address this with the editor:

http://www.mercurynews.com/sports/ci_3029…

Note this language and compare it to yours:

"Adelson is the single largest investor in advancing the stadium project. Well, make that second-largest"

Thanks for your attention to this.

Glenn Cook
Managing Editor
Las Vegas Review-Journal