According to a report from the New York Times, Donald Trump avoided paying "tens of millions of dollars" in taxes after he failed to declare hundreds of millions of dollars in income, thus exploiting a IRS loophole so legally murky that his own advisers told him that the IRS would probably penalize him if he were audited. Essentially, Trump had huge debts cancelled, then never disclosed it to the IRS, who consider forgiven debts as taxable income. Here's the Times:

As that empire floundered in the early 1990s, Mr. Trump pressured his financial backers to forgive hundreds of millions of dollars in debt he could not repay. While the cancellation of so much debt gave new life to Mr. Trump's casinos, it created a potentially crippling problem with the Internal Revenue Service. In the eyes of the I.R.S., a dollar of canceled debt is the same as a dollar of taxable income. This meant Mr. Trump faced the painful prospect of having to report the hundreds of millions of dollars of canceled debt as if it were hundreds of millions of dollars of taxable income.

But Mr. Trump's audacious tax-avoidance maneuver gave him a way to simply avoid reporting any of that canceled debt to the I.R.S. "He's getting something for absolutely nothing," John L. Buckley, who served as the chief of staff for Congress's Joint Committee on Taxation in 1993 and 1994, said in an interview.
A Trump spokesperson told the Times that what they had was not news, and said that, actually, the tax code is just too dang complicated:
"Your e-mail suggests either a fundamental misunderstanding or an intentional misreading of the law," Hope Hicks, Mr. Trump's spokeswoman, said in a statement. "Your thesis is a criticism, not just of Mr. Trump, but of all taxpayers who take the time and spend the money to try to comply with the dizzyingly complex and ambiguous tax laws without paying more tax than they owe. Mr. Trump does not think that taxpayers should file returns that resolve all doubt in favor of the I.R.S. And any tax experts that you have consulted are engaged in pure speculation. There is no news here."
The Times says they uncovered this evidence while going through the same documents regarding Trump's tax dodging that they reported on earlier in the month. The type of practice that Trump employed was made illegal for corporations 20 years ago:
Alarmed by the obvious potential for abuse, Congress and the I.R.S. made repeated efforts during the 1980s to curb this brand of tax wizardry before banning its use by corporations altogether in 1993. But while policy makers were busy trying to stop corporations from using this particular ploy, the endlessly creative club of elite tax advisers was inventing a new way to circumvent the ban, this time through the use of partnerships.
G/O Media may get a commission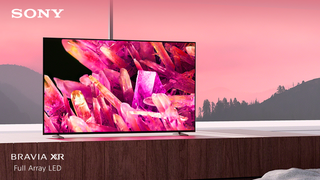 $400 off
Sony 55 Inch 4K Ultra HD TV X90K Series
And finally illegal for partnerships—the specific kind he employed—in 2004:
In any event, Mr. Trump can no longer benefit from the same maneuver. Just as Congress acted in 1993 to ban stock-for-debt swaps by corporations, it acted in 2004 to ban equity-for-debt swaps by partnerships.