The Muhammad Ali Expansion act, otherwise known as H.R. 5365, is a bill that was proposed by Oklahoma congressman and former professional MMA fighter Markwayne Mullin. The bill proposes to expand the Professional Boxing Safety Act to cover MMA fighters and extend them the same provisions offered by the PBSA, which include more pro-fighter contract regulations and the formation of an independent ranking and title system.

Jokic? Embiid? The NBA MVP is obvious... right? | Keep it a Buck(et)
The UFC is obviously not in favor the bill, as they oppose any pro-fighter measures on principle. Bloody Elbow reported earlier this year that Zuffa LLC (the UFC's former parent company) has spent hundreds of thousands of dollars lobbying against H.R. 5365. Records show that Zuffa paid SB Strategic Consulting on three separate occasions to lobby on their behalf. Mullin organized a hearing for the members of the House's Energy and Commerce Committee on Thursday in an effort to educate them before a formal vote and sway some voters of his own.
According to Amy Dardashtian of the Bloody Elbow, Mullin plans to have former UFC champion Randy Couture speak in favor of the bill, but the UFC tried to get the committee to stop Couture from speaking.
"They had threatened to walk because they didn't want us to have Randy Couture on the panel," Mullin said. "We want them to participate but they can't be dictating who we can and cannot have on the panel. This isn't an 'I gotchu hearing,' this is giving perspectives across the board."
G/O Media may get a commission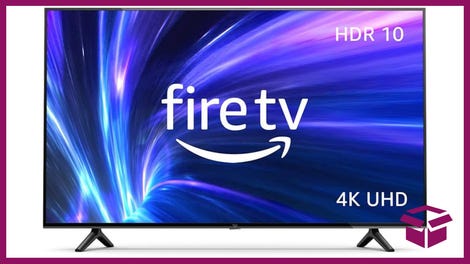 42% Off
Amazon Fire TV 50" 4K Smart TV
Couture said that he was not surprised that the UFC would try to go through back channels to stop him from giving potentially damning testimony. After all, he left the UFC in a huff after a nasty contract dispute:
"Are you surprised by that?" he asked. "Obviously there's no love lost from me, certainly with regard to the president of the company and obviously the landscape for the entire sport would change if we are successful. They've been trying to derail this hearing and not have it happen at all. So I'm not surprised that they are gonna pull out all the stops."
It's worth pointing out that H.R. 5365 is not without its opponents, who argue that expanding the PBSA would make the matchmaking system wonky. The UFC is trying to do everything they can to kill the bill, and kneecapping their opponents' ability to make their case while paying out thousands for a lobbying firm is very disingenuous. The UFC is attempting to negotiate both a lucrative new TV deal as well as fledgling organizing efforts by some of their fighters, and the bill is just another thorn in their side. Something will eventually give.